Hubley's seven TDs wreck Kennett Homecoming
09/24/2014 05:07PM ● By Lev
Kennett's Nick Dunlevy finds an opening for a late touchdown run.
By Richard L. Gaw
Staff Writer
At about 6:15 p.m. on the night of Sept. 19, the Kennett High School Homecoming parade got underway on the lower level of the school's parking lot, where it wove its way through neighboring streets, in preparation for that night's football game against visiting Oxford.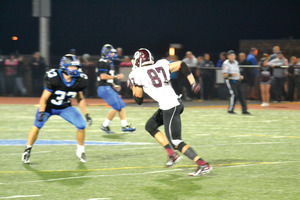 As the revelers rode atop floats and marched with instruments, a looming albatross in the name of Ryan Hubley, Oxford's 6' 3" senior tight end, began to get limber. The albatross hovered over the Kennett field the entire evening, and he never left.
Of Hubley's 13 receptions and 244 total yards, seven of them accounted for touchdowns, during a 53-47 Oxford victory, to give Oxford its first win of the season. From the first quarter to the last, the Danny Green to Hubley connection countered nearly every Kennett scoring drive and defensive scheme Scott Green's team threw at Oxford, despite a valiant effort by Kennett quarterback Nick Dunlevy and running back Miles Robinson to keep their team in contention.
Hubley's first touchdown came with 7:48 remaining in the first quarter, when, after a 24-yard gain by Oxford running back Zach Deasey got the ball to the seven yard-line of Kennett, Green found Hubley in the corner of the end zone. On Kennett's next possession, Dunlevy engineered an 11-play, 65-yard scoring drive that ended with his three-yard touchdown leap over an Oxford defender to give Kennett a 7-6 lead at the end of the first quarter.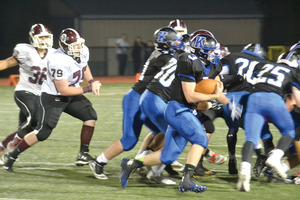 The one-point margin was short-lived, however, and an indicator of what would end up being a topsy-turvy shootout, and defined by the slash-and-burn running of Robinson and the ground-eating consistency of Hubley. On the first play from scrimmage to begin the second quarter, Green (308 yards passing) threw a perfect strike to Hubley for a 37-yard touchdown to give Oxford a 12-7 lead, which would then be answered with a 74-yard touchdown return by Robinson on the ensuing kick-off.
Oxford regained the lead, 18-14, when a 61-yard scoring drive ended on a Green-to-Hubley pitch from four yards out, with 8:39 left in the half.
Robinson again answered Hubley's touchdown with a second of his own with 7:37 left in the half. He bolted from the line for a 39-yard TD carry that sliced through the Oxford defense to give his team a narrow 20-18 lead.
The Hubley-Robinson show continued, when Hubley pulled in a one-handed grab of a Green pass for a 50-yard touchdown with 6:48 left in the half, which he followed up on Oxford's next possession with a 38-yard TD reception to give the Hornets a 34-20 lead.
With time running out on the second quarter, Dunlevy engineered a 10-play drive that culminated in a 27-yard touchdown strike to Frankie Perigo with 1:25 remaining in the half that cut Oxford's lead to 34-26.
While Hubley continued to pull down passes almost at will against a smaller Kennett defensive backfield, his exploits were nearly overshadowed by the work of Deasey. After a 13-yard touchdown catch by Hubley kicked off the second half with 10:39 remaining in the third – which was followed by a two-yard Dunlevy touchdown run -- Deasey broke 37 yards for a touchdown with 1:55 left in the third to give Oxford a comfortable 47-32 lead, accounting for a mere chunk of ground in the course of his 221-yard rushing night.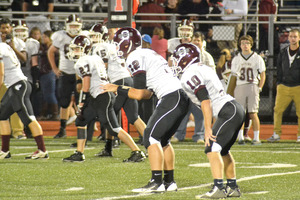 Normally, it would not be unforgivable for a team to throw in the towel when faced with a 15-point deficit with one quarter left in a game, but that's exactly what Scott Green's club chose not to do. On Kennett's first possession of the fourth quarter, three strong carries by running back Matt Boessman moved the ball to the Oxford 10-yard-line and, with 9:25 left in the game, Dunlevy's touchdown pass to Robinson, followed by a two-point conversion, narrowed Oxford's lead to 47-40.
The albatross, however, would strike again. Faced with a fourth-and-ten on Kennett's 36, Green found receiver Josh Mosley for a ten-yard gain. A few plays later, also on fourth-and-ten, Green hit Hubley who, despite being covered by three defenders, pulled in his final touchdown of the night with 5:50 left in the game, to give Oxford a 53-40 lead.
With 3:56 left, Dunlevy's one-yard run capped the game's scoring.
With the defeat, Kennett, who opened the 2014 season with a convincing win over Avon Grove, fell to 1-3, and will face 1-3 Sun Valley on Sept. 26. Oxford will bring its 1-3 record into a Sept. 26 game against Octorara (2-2), which will be played in Oxford.