Art and wine intersect at Oxford Arts Alliance
09/10/2014 06:00PM ● By Lev
By John Chambless
Staff Writer
The sweet allure of wine meets fine art at the Oxford Arts Alliance this month with the opening of the "Imagined Vineyard Wine Label" exhibition.
The idea behind the show was for artists to imagine their own winery, design a label, and then capture their wine bottle in a still life. Several artists embraced the challenge in a variety of ways.
The gallery is nicely decorated with a wine barrel, pallets and grape vines, creating a welcoming atmosphere that's augmented by on-site wine samples from the Wilson Vineyard. It's a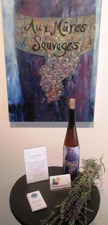 combination that's pretty irresistible.
Many of us buy wines based on how pretty the label is anyway, so the exhibition is a good test of whether we'd buy these imaginary wines.
Reenie Chase's painting for her Mount Eden Wine is one of the most successful, and her painting of two women with the bottle under a grape arbor has a rich texture and light. Patricia Reese's stylized label for Katz-Meow is fun as well. I'd buy a bottle of this, based on her smiling feline.
The show's artistic highlight is a plein-air painting of Wilson Vineyard by Randall Graham. Created just for this show, it's a warm, atmospheric view of sky and grape vines, and it has a lovely summer glow.
In his piece, Jay Eaton went so far as to sculpt his wine bottle out of ceramics, and then created a fish on a platter to go with it. Judy Petersen's purple/blue label for Aux Mures Savages is also quite appealing. In the gallery window is a terrific stained glass window, "Grape Arbor," by Lore Evans that's a perfect welcome to the exhibit inside. Each piece has a brief explanation card about the artists' inspirations and methods.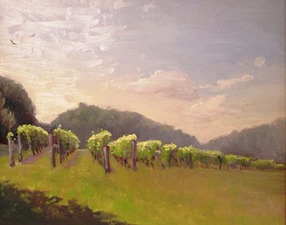 As the show that kicks off the fall gallery season, this one is a warm celebration of the bounty of our region, and it neatly intersects the realms of business, art and a good glass of wine – which is an unbreatable combination in anybody's book.
"Imaginary Vineyards" continues through Sept. 26 at the Oxford Arts Alliance (38 S. Third St., Oxford). Visit www.oxfordart.org for more information.
To contact Staff Writer John Chambless, e-mail jchambless@chestercounty.com