All-Star winners
07/23/2014 06:29PM, Published by Lev, Categories: In Print, Sports
---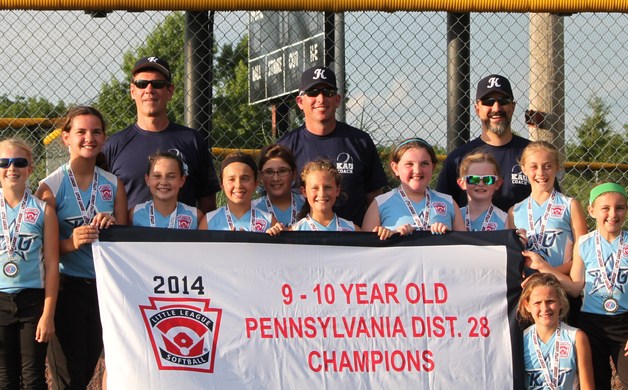 Players, left to right, are (kneeling) Devon Johnson; (standing) Becca Boorse, Julia Kosara, Andrea Roberto, Genevieve Ebaugh, Tori Corbo, Dani Panati, Kayleigh Methlie, Shannon Harvey, Colette Franck, Ella Schaub; coaches, left to right: Andy Kosara, manager Greg Harvey, Chris Schaub. Not pictured: coach Scott Boorse.
---
---
The KAU Little League Hurricanes recently won the 2014 District 28 10U All-Star Softball Tournament, defeating Avon Grove, 6-4. After nearly three days of cancellation and weather delays, the championship game was played in nearly perfect weather conditions. The Hurricanes marched their way through the tournament, defeating West Bradford and Lionville before a rematch with Avon Grove in the championship. KAU now moves on to the State Tournament to be held in West Point, Pa., near Pittsburgh, beginning July 24.
---
---
---
kau little league youth sports
---
You might also like
Local Team wins District Title.
A first-ever home run by Christian Saldana propelled Optimist and its potent offense to a 16-3 win over Jaycees in the KAU Little League Intermediate 50/70 Division Championship.
---