The Art Spot
06/04/2014 09:10AM, Published by ACL, Categories: In Print, Arts+Entertainment
---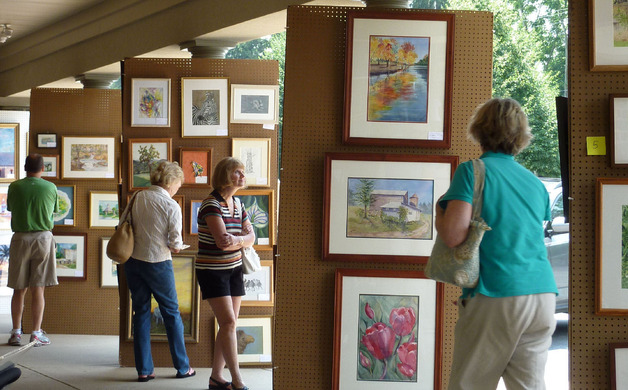 The Greenville Summer Art Show will be held June 6 and 7 (see listing).
---
---
June 6 to 28
'Colour and Texture'
Longwood Art Gallery (200 E. State St., Kennett Square) is hosting "Colour and Texture," a show of watercolors by Jack Giangiulio, and ceramic tiles and sculpture by Rhoda Kahler, from June 6 to 28. A reception will be held on June 6 from 6 to 9 p.m. during the First Friday Art Stroll. There will be wine and cheese, light fare and live music by The Ladeens  Giangiulio will present "An Artist's Vision," a discussion of the journey from initial concept to the completion of an original work of art, on June 8 from 1 to 3 p.m. Admission is free. For more information, call 610-444-0146 or visit www.longwoodartgallery.com.
June 6 to 28
Lockhart and McBride
The Station Gallery (3922 Kennett Pike, Greenville, Del.) presents new oil paintings by Lynne Lockhart and Kirk McBride from June 6 to 28. There will be a reception with the artists on June 6 from 5 to 8 p.m. Both artists paint in oil, gathering inspiration from their travels and from their home on Maryland's Eastern Shore. Subjects include landscapes, nautical scenes and animals. Call 302-654-8638 or visit www.stationgallery.net.
June 6 and 7
Greenville Art Show
One Greenville Crossing (Route 52, Greenville, Del.) will be the site of the DFVA Greenville Summer Art Show on June 6 from 9:30 a.m. to 6 p.m. and June 7 from 10 a.m. to 5 p.m. (rain date June 8 from 11 a.m. to 4 p.m.). Admission is free. More than 30 professional artists from the Brandywine Valley will exhibit and sell original new works of art. 
Through June 14

'American and European Masters'
The Somerville Manning Gallery (101 Stone Block Row, Greenville, Del.) presents "American and European Masters: Art of the 19th-21st Centuries" through June 14. The show features original works by Alexander Calder, David Hockney, Georgia O'Keefe, Pablo Picasso, Frederic Remington, Pierre-Auguste Renoir, John Singer Sargent, the Wyeth family and others. Gallery hours are Tuesday to Saturday from 10 a.m. to 3 p.m. (extended hours until 7 p.m. for the May 2 Art Loop). Call 302-652-0271 or visit www.somervillemanning.com.
---
---
---
station gallery the art spot longwood art gallery somerville manning gallery one greenville crossing dfva greenville summer art show
---
You might also like
Check out upcoming galleries and showings from a variety of artists.
---