Sharing the beauty and grace of ancient Chinese arts
05/20/2014 05:28PM ● By ACL
Artist Hua Hua Zhang with the puppets she uses to teach students about shadow puppetry.
By John Chambless
Staff Writer
Carefully holding two slender sticks attached to a cut-paper dragon, Hua Hua Zhang held it to a white screen and its shadow instantly became a living thing. Barely moving her fingers, she made the tiny creature strut and wriggle as she demonstrated an artform that is thousands of years old.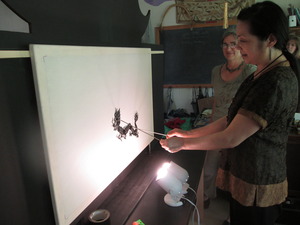 Earlier this month, Hua Hua took part in a residency at Upland Country Day School, where she worked with students of all ages for four days to share just a taste of Chinese culture. 
The artist, who now lives in Boothwyn, was born in Beijing and has trained in the ancient tradition of puppetry. She won numerous awards as a member of the China Puppet Arts Troupe over 20 years, and toured the world. She moved to America in 1996 and has made a career of performing elaborate, multimedia productions in which she designs and builds the puppets, creates the story and dazzles audiences with theater that blends East and West.
At Upland, she was introducing students to calligraphy and shadow puppetry, and aiming to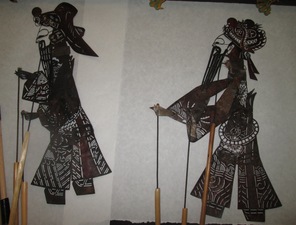 convince them that puppets are not just the fuzzy things seen on "Sesame Street."
With a warm smile, Hua Hua explained that the American term puppetteer doesn't apply to what she does. "Traditional puppetry is a serious art form. I say I'm a puppet artist," she said. "A puppetteer is a parent with socks on their hands -- that, anybody can do."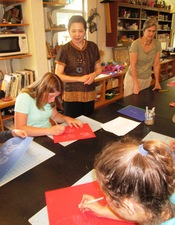 Even in conversation, Hua Hua can't help being an artist. When she describes teaching the Upland students to perform as part of a dragon dance, she sways with grace and elegance. When she demonstrates calligraphy with a large brush, she puts her whole body into the gesture of making a mark. When she combines all of her artistic gifts in her Visual Expressions company, she's a dynamic, one-woman powerhouse.
Not that she celebrates that fact. When showing off her students' attempts to write calligraphy, she points out the red insignias in the lower corners of the papers. "I tell the kids, 'Never put your name in the top,'" she said. "We always put it lower, because you need to be humble."
Students in grades 3 to 6 learned calligraphy. "Calligraphy is art, it's beautiful, like painting," she said. The ancient symbols more closely resemble the objects they reference. The marks have become more squared-off over the centuries. 
American students, Hua Hua said, want to fill in the brushstrokes so they are not sketchy. But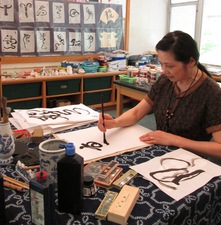 spots where the ink is missing mean that the creator was expressing motion. "This is not art," Hua Hua said, filling in the sketchy parts of the writing with heavy black ink. Holding her brush with impeccable posture, she added, "When you write, you need to have a feeling." Her hand moved with the grace of a dancer over the rice paper.
Raised in the Chinese tradition in which an artform is pursued relentlessly until it is perfected, Hua Hua felt stifled by the expectation that she should be a puppet artist only.
"Thank you America," she said. "In China, I was specifically a performer. I cannot be a sculptor. Once you are a major performer, major designer, you're just in there. You cannot change."
Her mother liked painting and her father worked to teach Hua Hua calligraphy, but lifetimes could be spent perfecting any one artform in China. She was told, "You do your work, but your work has to be perfect," she said. 
"My mission when I came to America was to share my art, and share with children. I love children," she said. "Teaching is really happy for me. I don't just give my art and my love to children, they also give it to me. Every day, I go home smiling. Class finishes and they don't want to leave. That is the reward of being a teacher."
Hua Hua (her name means "squirrel" in Chinese) darted around a table in the art room, helping seventh-graders use X-acto knives to cut and trim their paper shadow puppets, giving help when necessary but leaving plenty of room for the students to make their own decisions.
The youngest students at Upland created dragon hats to wear when they perform a dragon dance, in which multiple dancers must work together to create the sinuous movements of the creature.
"The dragon, in China, is a good creature," Hua Hua said. "It represents being friendly, bringing long life, very lucky for families. In America, the dragon usually represents the monster, the bad guy."
Older children made simple shadow puppets out of plastic shapes and straws. Hua Hua showed two ancient shadow puppets of her own that had a brown patina of considerable age. "They're made of donkey skin," she explained, which was a material that was easy to cut but lasted far longer than paper.
With four or five rods to control arms, legs and bodies, the puppets can require two artists to manipulate. A skilled performer, however, can convince an audience on the other side of the screen that they are seeing living creatures interacting, dancing or wielding a sword. Characters appear and disappear when the artist simply moves the puppet closer to the surface of the screen, or backs it away. It's a simple process that nevertheless looks magical.
With such a rich history of Chinese arts, Hua Hua can only introduce each subject, leaving it to art teachers to carry on after she's left a residency. "I try to inspire teachers and students," she said. "I want to teach them that anyone has the potential to create art. Art enriches your life and is a gift to share from your hands and your heart."
For more information on Hua Hua Zhang, visit www.visualexpressions.org.