Despite valiant effort, Oxford team falls in state tourney, 48-38
03/12/2014 02:42PM, Published by ACL, Categories: In Print, Sports, Schools
---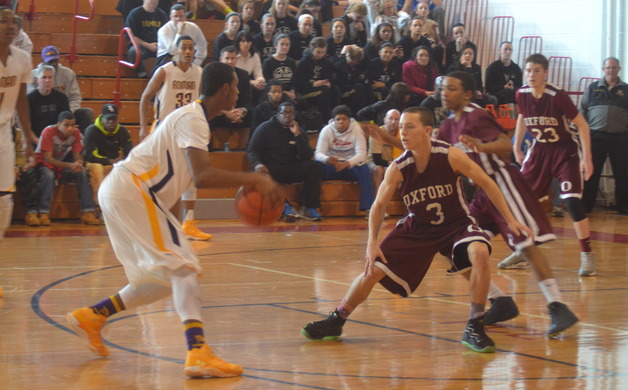 Dylan Dunn defends against a Roman Catholic guard in the first half of Saturday's PIAA Class AAAA first-round playoff game.
---
---
By Richard L. Gaw
Staff Writer
As the mid-afternoon sun poked its way into the packed gymnasium during pre-game warm-ups at Archbishop Carroll High School in Wayne this past Saturday, the added splash of light illuminated the obvious: that this was a match-up of Herculean differences.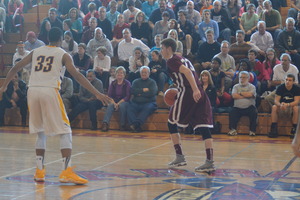 On one end of the court, the Oxford team, 22-7 on their season, did both layups and double-takes over their shoulders, as they watched the top-seeded Roman Catholic (21-4 and undefeated in the Philadelphia Catholic League) squad warm up. While the average height of a Hornet stood at about 5' 11", every Cahillite player except for one stood over six feet and topped off at 6' 5", 6' 6" and 6' 8". Perhaps the only thing larger on the team was its state ranking – first – and its national ranking – 17th in the Digital Sports National Basketball Rankings.
For the first half, the story of the game closely followed script; at the start of the second half, Roman Catholic had jumped out to a commanding 15-point lead. By the end of the third quarter, however, their lead had been sliced to three, and suddenly, they were the ones looking over their shoulders.
In an effort that can only be described as "heroic," a glaringly over-matched Oxford team took Roman Catholic nearly bell-to-bell in the second half, only to fall short in the closing minutes of the game, in a 48-38 loss in the opening round of the PIAA Class AAAA first-round playoffs.
Opening in a deliberate perimeter offense, the Hornets burned up the first few minutes by taking Roman Catholic out of their game. With 5:41 left in the quarter, Ryan Hubley scored the game's first points on a layup, and converted his foul shot to give Oxford a quick 3-0 lead. The remainder of the quarter, like its lead, vanished for Oxford, as Miles Clarke, Musty Mahmud and Hubley could not convert easy opportunities in the paint.
Down 12-5 at the start of the second quarter, two consecutive three-pointers by Jordan Logan pulled Oxford to within two points of Roman Catholic, but outside of a Mahmud basket, Oxford was held scoreless in the second, while three-pointers by Gemil Holbrook and Tony Carr highlighted a 16-point scoring effort by Roman Catholic, as the Cahillites entered halftime carrying a 15-point lead.
For the next several years, Oxford's third-quarter comeback in the game will become a lasting talking point of its program, one that will be marked more for its determination than for its numbers. Oxford outscored Roman Catholic 17-5 in the quarter, with a swarming defense and timely shooting. Held scoreless for the first two minutes, Logan's floater cut the lead to 13, a three-pointer by Aaron Sivels with 3:21 left made it 28-21, and after three quarters of being held to little inside scoring, Hubley scored four times along the baseline, the last of which cut Roman Catholic's lead to five points with 2:15 left in the quarter. With 31 seconds left, Mahmud's drive and subsequent foul shot on the foul pulled Oxford to within three points of the number one team in Pennsylvania.
Carrying the emotions of its comeback into the fourth quarter, Oxford continued to peck away at Roman Catholic. Down by six points with four minutes left, Mahmud gathered in Logan's tipped shot for a layup, and with 3:37 remaining, he stole a pass and drove the length of the court for a layup to slice the Roman Catholic lead to two points. Fouled on the play, his free throw made it a one-point game, 36-35.
After a jumper by Manny Taylor gave Roman Catholic a 38-35 lead, Logan was fouled on a three-point shot attempt with 1:35 left in the game, after which he promptly made all three foul shots to bring the Hornets within two, 40-38.
Clinging to a narrow lead, Roman Catholic went into a stall offense, forcing Oxford to foul in order to get the ball back. The strategy proved to be the difference in the game, as Roman Catholic made nine of ten shots from the foul line in the fourth quarter.
Roman Catholic was led by Holbrook with 13 points, Shep Garner with 9 points, and Taylor and Rashaan London with 8 points each. With the win, Roman Catholic advanced in the PIAA playoffs and played Lower Merion on March 12. Mahmud led Oxford with 12 points, while Logan and Hubley had 11 points each.
Down ten points with 3 seconds left in the game, a visibly emotional Oxford head Coach Sean Harvey pulled his starters, among them Logan, Clarke, Mahmud and Dylan Dunn, each of whom ended their Oxford careers on Saturday. He hugged them one by one as they walked to the bench.
In a hallway after the game, Harvey was asked what he said to his team in the locker room after the game. Holding back tears, he said, "I told them that I love them.
"My plan was to have the kids to play the way they have been playing their entire careers, and that was with heart," he said. "In the end, that's really all that matters. Height doesn't matter. Size and speed don't matter. They just played with heart, and that's all I asked them to do."
---
---
---
oxford area high school oxford oxford high school basketball oxford high school basketball oxford high school boys basketball
---
You might also like
Uncle Irv for the week of August 20, 2014.
Editorial for the week of August 20, 2014.
---