Art made from castoffs at new Wilson Vineyard gallery
03/12/2014 02:22PM ● By ACL
Sally Wilson has opened a gallery space at the Wilson Vineyard in Nottingham.
By John Chambless
Staff Writer
With sunlight streaming in through the open door and temperatures flirting with spring-like warmth, the new gallery at Wilson Vineyard in Nottingham was a welcoming spot on Saturday afternoon.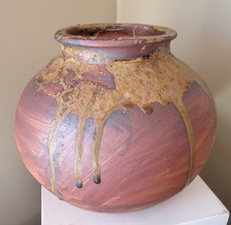 Sally Wilson, the aunt of Zach and Dave Wilson, who operate the winery, was eager to show off the space, which occupies a former garage that adjoins the winery tasting room. A longtime artist herself, Sally opened the gallery in December as a perfect browsing spot for visitors who come to sample Wilson wines. Located on the lower level of the Wilson home, the gallery is a low-key place that will spotlight different regional artists each month. On Saturday, works by Maryland-based artist Maggie Creshkoff were in the spotlight.
Creshkoff can see grace in decay, and personality in household castoffs. Her solo show has a nice range of her work -- ancient-looking ceramics, her cartoonish glazed pottery pigs, her tin-can people and her beautiful "rusty angels."
The angels are powerful things made of metal that's rusted to the point of nearly disappearing,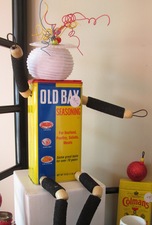 but carefully bent and manipulated by Creshkoff to make divine little characters. With pottery faces she sculpts herself, Creshkoff turns ragged metal into flowing skirts and expressive gestures. 
The little bent metal wings of her two flying angels are just right, as is the extended arm between the two "GF Angels" and the sliver of blue metal in the gaceful "Blue Rusty Angel." The angels work in larger sizes, too. The pieces on large ceiling tins are just as expressive, particularly "Madonna," who is holding two tiny infant faces in her arms.
While the angels have a poignant resonance, Creshkoff's tin-can creations are whimsical, made of objects you wouldn't expect to be faces or arms, but somehow perfect in context. 
Her large wooden assemblages are just fun as well. "Manly Crutch Man" is an old crutch, a wooden plate and a few perfectly placed wooden bits that add up to an expressive portrait. The two figures with scrub-brush heads and salad-fork arms are also very charming. 
And "Furniture Face" turns a tabletop and scraps into a cockeyed portrait that ordinary people could never envision when contemplating a pile of junk.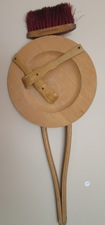 Exhibit receptions are held at Wilson Winery (4374 Forge Rd., Nottingham) on the Saturdays after Oxford's First Fridays. Creshkoff's show continues through March 23, followed by "Artists Among Us" (March 28 to 30) and watercolors by Sarah Yeoman (April 4 to 20). Gallery hours are Fridays from 5 to 8 p.m., Saturdays and Sundays from noon to 6 p.m. Call 610-220-0128 or visit www.wilsonvineyard.com.