The Art Spot
01/28/2014 06:14PM, Published by ACL, Categories: In Print, Arts+Entertainment
---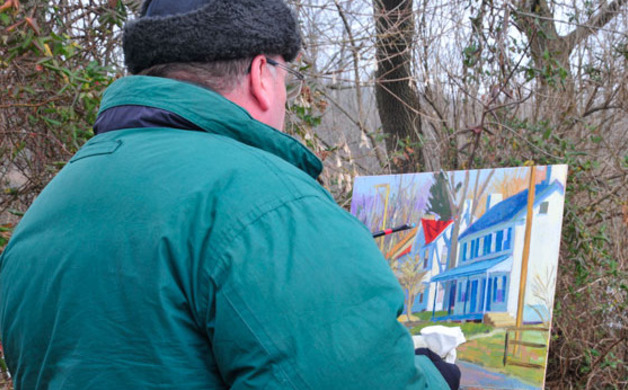 Regional artists will be painting winter scenes around Chadds Ford on Feb. 7, with an exhibition to follow on Feb. 8 (see listing).
---
Through May 18
Calendar art
The Brandywine River Museum (Route 1, Chadds Ford) presents "A Date With Art: The Business of Illustrated Calendars," featuring original works by Maxfield Parrish and Norman Rockwell, through May 18. Also on view through May 18 is "N.C. Wyeth's America in the Making," featuring images of inspirational and patriotic events by the renowned illustrator, including props from his Chadds Ford studio. Visit www.brandywinemuseum.org.
Jan. 29 to Feb. 2
Malvern Retreat House Art Show
The Malvern Retreat House (315 S. Warren Ave., Malvern) hosts an art show from Jan. 29 to Feb. 2 featuring original artworks by more than 100 professional artists. A reception will be held Jan. 31. Hours are Wednesday to Saturday from 10 a.m. to 7 p.m., and Sunday from 10 a.m. to 4 p.m. The spotlight exhibition is by 15 abstract artists. Proceeds benefit Malvern Retreat House. Visit www.MalvernRetreat.com/ArtShow.

Feb. 3 to 28


'Catch & Release'


Landenberg artist Nanci Hersh will have a solo show, "Catch and Release," at Project Space (2003 W. 17th St., Wilmington, Del.) from Feb. 3 to 28. There will be a reception on Feb. 7 from 5 to 8 p.m., and an artist's talk on Feb. 23 at 2 p.m. Hersh's paintings, drawings and sculptures are inspired by the sea and the shapes and shadows of fishing nets. Gallery hours are Monday to Friday from 11 a.m. to 3 p.m. Visit www.projectspacede.com.

Feb. 7 and 8


Plein air event


The Chadds Ford Historical Society will be hosting the Sixth Annual Plein Air event, welcoming artists from around the mid-Atlantic region to depict the Chester County countryside. Dozens of artists will be working on Feb. 7 to capture winter scenes around Chadds Ford. An event highlighting the works will be held at the Barn Visitors Center (1725 Creek Rd., Chadds Ford) on Feb. 8. A preview party from 5 to 6 p.m. will allow visitors a first look at the paintings, along with hors d'oeurves, wine and a chance to meet the artists. General ticketed admission is from 6 to 8 p.m. For more information, call 610-388-7376 or visit www.chaddsfordhistory.org.

Feb. 7 to March 1


Winter group show


The Station Gallery (3922 Kennett Pike, Greenville, Del.) presents a winter group show from Feb. 7 to March 1, with an opening reception on Feb. 7 from 5 to 8 p.m. Exhibiting artists are Rosemary Castiglioni, Rosemary Connelly, Stephen Springer Davis, Janis Fitch and Kate Mundie. Call 302-654-8638 or visit www.stationgallery.net.

March 7 to April 5


'Under the Influence'


Somerville Manning Gallery (101 Stone Block Row, Greenville, Del.) presents "Under the Influence," an exhibition of contemporary artists and the masters who inspire them, from March 7 to April 5. An opening reception will be held March 7 from 5:30 to 7:30 p.m. Exhibiting artists are Jeff Moulton, who draws inspiration from Richard Diebenkorn; Dan Rizzle, who is inspired by Donalt Sultan; and Vicki Vinton, who is inspired by Willem de Kooning. Also included will be Scott Prior, who is inspired by Gregory Gillsepie; and Jane Morris Pack, whose photos draw inspiration from Dutch painter Johannes Vermeer. Works by painter Kay Jackson, who uses old master techniques inspired by Italian gothic artists, are also featured. Call 302-652-0271 or visit www.somervillemanning.com.
---
---
the art spot brandywine river museum chadds ford gallery the station gallery bookplace the delaware art museum winterthur museum
---
You might also like
The Art Spot for the week of August 13th, 2014.
Local art events for the week of July 23, 2014
The Art Spot: David Katz pop-up show at Galer Estate Winery and more for the week of July 16, 2014.
---