The Friends of New Garden: The David who's defeating Goliath
01/21/2014 01:13PM, Published by ACL, Categories: In Print, Opinion
---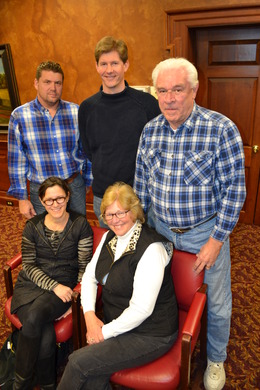 Julie Gardner, lower left, executive director of S.A.V.E., with members of The Friends of New Garden. From top left: Mike Donovan, Dan Linderman, Tom Lewis and Donna Lewis.
---
---
By Richard L. Gaw
Staff Writer
It was the evening of Nov. 14, 2011, and every seat in the main meeting room at the New Garden Township Building was occupied.
Representatives from the Pennsylvania Real Estate Investment Trust (PREIT) took up the first row in one section of the room, while more than 150 residents of the township filled the remainder of the hall for what became a near four-hour deliberation of requests, outbursts and decisions concerning the immediate future of the proposed White Clay Point Town Center in New Garden Township. 
Greg Adelman, PREIT attorney and spokesman, asked the township's board of supervisors to grant PREIT a waiver request to convert the center from a subdivision into a condominium form of ownership that, would provide flexibility in attracting potential tenants to the site, as well as stimulate the resale of the overall development. Adelman said that requiring the developer to go through a subdivision process would cause "undue hardship," and that the arrangement would potentially dissuade potential tenants from becoming a part of the center. 
A month before, at the Oct. 2011 board of supervisors meeting, PREIT unveiled the first phase of the development, which called for the construction of a 181,000-square-foot Walmart on the south side of Route 41, and a Wawa convenience store located to the south and across Route 41 from the store. It would serve as the first phase of what would be a 716,000-square-foot retail and mixed-use town center.  Adelman said that the project was scheduled to break ground by the end of the year and be completed in 2012.
"If you take away these units and it just becomes just one big center with no individual interest in the ownership of these buildings, you will discourage certain tenants from coming," Adelman told the supervisors.
One-by-one, with voices both impassioned and furious, township residents stood up and pleaded with their supervisors not to give in to the wishes of a big-time developer.  Finally, at a little after midnight, the supervisors ruled by a vote of 3-2 in favor of granting PREIT their request. In the more than two years since that evening, the only evidence of PREIT in this still vacant, 100-acre lot on Route 41 just south of Sunny Dell Road is a large green sign that gives the phone number of a PREIT representative. 
The reasons for this vacancy, more than a year after PREIT first informed the township of the project's datelines for completion, may – or may not – have something to do with the company's financial picture, as it was announced that PREIT sold off $359 million worth of its properties in 2013.
Yet, as many in the township have come to believe, the key finger in the dike that has until now halted the floodgate of construction to White Clay Point is not found in the grand plans of a billion-dollar business, but in the growing influence of a group made up of moms and dads and grandparents.
The Friends of New Garden is a 16-member organization who came together out of an informational meeting held at the Somerset Lake Clubhouse in the fall of 2011. This consortium of nearly 100 residents have openly questioned the validity of the laws surrounding the township's sign-off on White Clay Point, and has fought successfully in court to uphold that the board's decision to grant the condominium waiver to PREIT was a violation of the law. 
The initial reason for forming the group stemmed from the frustration several were having with not being given an adequate "voice" in the discussions about White Clay Point.  They saw holes in the agreement between the township and PREIT. They were concerned with the impact of what an outdoor mall of this size would have on traffic patterns, not only on Route 41, but on Sunny Dell Road, on which the Kennett Area Middle School is located.  Their concerns were also environmental and safety-related. Each time, they said, their concerns were met with oblivious shrugs from the township.  
"We began presenting our concerns, trying to get an understanding of what's going on so that we could inform the community, and when we got together they said that we were not completely representative of the community," said Friends member Dan Linderman. "Here we were, putting a lot of time and effort to stay on top of an important issue in the township, and they were putting it back in our face."
"All we heard is that it's a done deal.  They told us that we were coming to this process 8 years too late, and all we were looking for was a little bit of dialogue," said Tom Lewis, who is a member along with his wife, Donna. 
Enlisting the legal counsel of J. Dwight Yoder, a Lancaster attorney, the group officially formed in 2011, and filed its first land use appeal against PREIT in the Chester County Court of Common Pleas, that opposed the idea of a condominium arrangement, stating that they had "an adverse, direct, immediate and substantial interest in how PREIT develops its property, including a substantial interest in being sure that PREIT and the (New Garden Township Board of) supervisors comply with the terms of the settlement agreement and applicable ordinances." 
The Hon. David F. Bortner ruled on Jan. 18 in favor of the Friends of New Garden, thus denying PREIT to subdivide the development into condominium lots for sale to individual stores without subdivision approval or review by the township's Board of Supervisors. 
In his 25-page ruling, Judge Bortner wrote that, after review of the record and consideration of arguments, he ruled that the appellants "have standing to bring this appeal." Bortner also wrote that the Board of Supervisors of New Garden Township "committed an error of law" in determining that the settlement agreement authorized the waiver of subdivision procedures to create condominium units upon the property,
"Our entire initiative in forming was just to get someone from the outside, an arbitrator, and ask them, 'Can someone look at these agreements?'" said Friends member Mike Donovan, who was a candidate for the township's board of supervisors in 2013. "We were looking at this from the standpoint of, 'Wait a second, PREIT, doesn't your asking for an appeal break down the total structure of what you were originally planning?' We wanted an outside entity like Judge Bortner to tell us if we were right or wrong." 
One year later, on Jan. 3, 2014, PREIT's request to overturn the one-year-old order was denied. The appeal was argued on Dec. 9, 2013 and reached by the decision of the Hon. Dan Pellegrini. 
In the case, PREIT argued that the Friends of New Garden did not have the proper standing to challenge the Board's approval, "because they have no direct, immediate or substantial interest" in the type of ownership White Clay Point will have. Further, PREIT stated that the Friends of New Garden lacked "procedural standing" to enforce the settlement agreement, because they are not linked to the settlement agreement, nor challenged it at any time. 
Pellegrini disputed PREIT's claim, and wrote in his argument that nearby property owners have a direct and substantial interest in the development. "Development near one's property will almost certainly bear some sort of effect on that property, whether from deceased property values, noise, pollution, traffic or a number of other factors," Judge Pellegrini wrote. "...There is a casual nexus between the development and the effect of the Neighboring Property Owners' right to enjoy their properties."
"To me, this was about sending a clear message to our supervisors and people who are interested in developing in Landenberg, that the citizens of Landenberg want to be heard and want the local laws to be followed," said Friends member Steve Lustig. 
Victory has a way of impacting validity, however, and in the case of the Friends of New Garden, they plan to use their new-found influence to further educate the public on issues related to smart growth, and the influence that citizen groups can have on the decisions made in regard to development.  
"This group is a model of community grass roots activism," said Julie Gardner, executive director of Safety, Agriculture, Villages & Environment (S.A.V.E.), a Chester County-based group that serves as a watchdog for smart infrastructure growth in the community. "It's fabulous that a group of citizens have stood up for the process and the laws that impact their community. They thoughtfully approach each decision point, and have persisted in the face of great odds.  This group has taken the ball and run with it, and we have supported it."
Perhaps the largest misconception of the Friends of New Garden is that it is a group hellbent on no development of any kind in New Garden Township. According to representatives, the group is in support of the White Clay Point area, but rather than as a mixed-use outdoor mall with a Walmart at its apex, it sees the acreage being used for alternative purposes, such as a medical complex, a solar farm, or a more reasonably-sized mixed-use development.
"There are a lot of things that we do want to see built here," Lustig said. "It's not challenging development, but creating a balance of modest growth and keeping the mindset of open space intact."
Effectively arguing for itself is one thing, but paying for it is another. Although S.A.V.E.  helped fund the initial costs for their legal appeal against PREIT and the township, the Friends of New Garden's continuing legal fees have been funded entirely by donations from appellants, members, friends and other New Garden Township residents. Overall, the donations have helped the Friends pay a portion of the legal fees accumulated in the last year or so, which are close to $20,000. In order to help pay additional fees, the Friends of New Garden will be hosting a guest bartending fundraiser at Six Paupers in Hockessin on March 6, from 7 p.m. to 9 p.m.
"The fundraiser will allow us to educate people on what we did," he said. "We want to talk to our neighbors, in an effort to make sure that we are all marching down the same path, not just the supervisors but everyone, in order to come up with innovative ways to drive this township forward."
---
---
---
friends of new garden new garden township pennsylvania real estate investment trust preit
---
You might also like
Editorial for the week of January 15, 2014.
---