The diamond is forever
01/21/2014 11:54AM ● By ACL
Tim Barnes
By Steven Hoffman
Staff Writer
They love the game, these ageless boys of summer.
The eight inductees to the Kennett Old Timers Baseball Hall of Fame all played baseball in the sunny skies of their youth, belting home runs, striking out opposing batters, stretching singles into doubles on the ragged base paths. They played Little League ball, American Legion ball, high school ball. Some went on to play college ball. A few earned tryouts with Major League clubs.
Eventually, they began life in earnest, taking jobs, marrying wives, raising children. But they all returned to the sport that they love, playing in various adult baseball leagues throughout the area. It wasn't about recapturing past glories, but rather continuing to enjoy the great game that is an essential part of their lives.
At the 2014 induction ceremony on Jan. 18 at the Red Clay Room in Kennett Square, this year's inductees—Tim Barnes, Edwin Colon, Glenn Davis, Gary Entrekin, David Ferrell, Scott Fowler, Dave Hons, and John Peet, III—shared their stories about why the game means so much to them. They join more than 200 other local players who have earned a spot in the Kennett Old Timers Baseball Hall of Fame.
Mickey Morandini, the former all-star second baseman for the Philadelphia Phillies, succinctly summed up the importance of the event when he observed that, "To be a part of any hall of fame is an honor."
The Kennett Old Timers Baseball Association was established in 1974 through the efforts of a group that included Howard Lynn, Bat Burton, Donald McKay, Donnie Davenport, Lou Manfredi, John Moynihan, Gordon Farquhar, and Joe Husband. The goal was to establish a hall of fame that honors local baseball players at its annual banquet. Through the years, the Philadelphia Phillies have supported the organization as Larry Shenk, an executive with the Phillies, helped arrange guest speakers for the event.
Bob Burton, the son of Bat Burton, is the longtime president of the organization. He and Prissy Roberts lead the effort to organize the event each year, and it remains a popular mid-winter celebration of baseball. Burton said that attendees are as devoted as ever to the event, which is illustrated each year by the spirit of camaraderie that abounds.
"I think we should keep it going," Burton said. "The people who come really love it. It's a nice night."
The highlight of each banquet is the induction ceremony, with Joe Scalise serving as the presenter of the plaques.
Here's a look at each of this year's inductees:
Tim "T-Bone" Barnes
Barnes, a resident of Elverson, was a pitcher on the Coatesville High School team. He also played Little League and in the Caln Farm, Babe Ruth, and Senior Babe Ruth leagues. In 1978, he started playing in the Coatesville Adult Baseball League, where he played for 25 years. He was part of ten championship teams during that span, and Barnes earned Championship MVP Awards in 1997 and 2007. Playing in the Kennett Men's Senior League from 1995 to 2000, Barnes was a member of the championship team five times and was named Pitcher of the Year twice—in 1996 and 1999. He earned Rookie of the Year honors in the Delaware County Baseball League in 2003. In 2009, he was part of the MSBL Fall Classic championship team. In 2013, he played on the Tri-State Baseball League squad that won a league championship. Barnes was named team MVP.
Talking about his skills as a pitcher, Barnes credited his father for helping him develop.
"I'd like to thank my dad for all those warm-ups in the backyard," Barnes said. He also thanked all the players that were his teammates or opponents on the various adult league teams.
"The best part of this," he said, "are the friendships. I'll always cherish those memories on and off the field."
Edwin Colon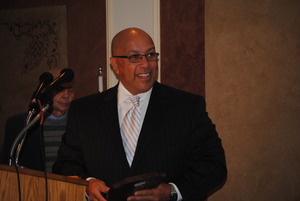 Like Barnes, Edwin Colon excelled in Men's Senior Leagues. Colon was born in Patillas, Puerto Rico. He grew up in the Kennett area playing in the Babe Ruth League and American Legion, where he was an all-star outfielder. He was a catcher on the Cecil Community College team in 1980.

He called former teammate Steve Potter the best pitcher that he ever had the privilege of catching.
"I could probably still get out here and catch him," he joked.
Glenn Davis
Davis was a shortstop, second baseman, and pitcher for Garnet Valley High School, where he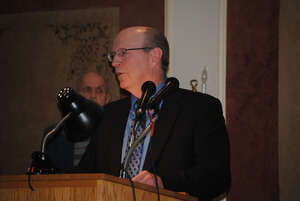 earned the Sportsmanship Award in 1978. He played on the 28-and-over Blue Rocks team that won a championship and on the 2013 Tri-State MSBL championship team. Davis went on to coach numerous Brandywine Youth Club baseball, soccer, and basketball teams. He managed and coached the Concord Legion 13s to the 2007 State Championship.
Davis thanked his family for supporting him through all his endeavors, and also praised coach Mark Grandizio for having such a huge impact on so many local adult league players.
Gary "Monk" Entrekin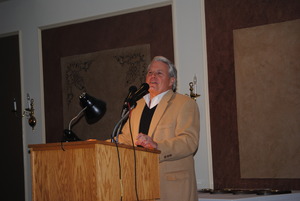 Entrekin grew up in Coatesville playing on the Coatesville Little League, Babe Ruth League, and American Legion teams. He was an All-Ches-Mont League selection in high school. He earned the Charles Hemming Scholarship for a varsity baseball player at West Chester University. He earned professional tryouts with the Philadelphia Phillies, Kansas City Royals, New York Mets, and Cincinnati Reds. He went on to be a four-time all-star in the West Chester Adult League, where he was on three regular season championship teams. He was a three-time all-star in the Kennett MSBL, and had a cumulative batting average of .412 from 1991 to 1996. Entrekin has also been a manager and coach. He served as a manager and player on the Kennett MSBL 30-and-over team. The team compiled a 63-14 record from 1991 to 1996, and over a ten-year period the squad won five regular season titles and four playoff titles. He managed and played on the Kennett team that won the Fall Classic National Tournament in Florida. 
"Kennett Square had a name down there in Florida as a very good team," Entrekin said. He also thanked Potter and Grandizio for their instrumental roles with the adult leagues.
David Ferrell 
Ferrell played first base and pitched for the Springfield High School baseball team. He was also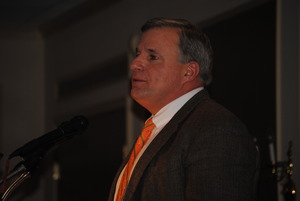 a standout at the University of Delaware, where he pitched. In 1992, he joined the Kennett Men's Senior League and has excelled. In 2002, he earned the league's Cy Young Award by compiling a 6-0 record with 100 strikeouts in 57 innings. He was a part of several league championship teams. He also played on the annual National Senior Men's Baseball Fall Classic Tournament in Florida for 15 straight years. The team only missed the playoffs once and won the tournament one year. Ferrell, also a standout soccer player, was a 1993 inductee into the Springfield High School Hall of Fame in the second year of that hall of fame's existence.
He said that he considers his best baseball years and memories to be those from the Kennett Senior Baseball League because it was competitive and challenging, but also because of the friendships and relationships that developed.
"I see tons of friends," he said to the baseball enthusiasts who filled the room. "That's what I value most, playing baseball in Kennett with all of you."
Scott Fowler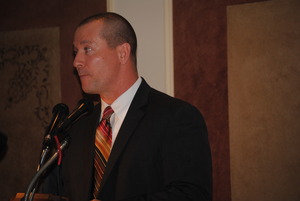 Fowler was born in Washington D.C. but his family eventually moved to Oxford where he played baseball, football, and basketball for Oxford Area High School. He was a pitcher and catcher and played varsity baseball as a sophomore. He was voted the team MVP in 1979 and the next year Oxford tied Kennett for the regular season title. Oxford defeated Kennett to win the Southern Chester County League title, the school's first championship since 1949. As a graduate student at Penn State, Fowler had the opportunity to coach high school football at Daville, Pa. This led him to start a teaching and coaching career. He moved to Virginia Beach and started teaching high school biology and has been teaching and coaching ever since. In 2001, he accepted a position teaching at Norfolk Academy, one of the oldest independent schools in the country. 
Fowler reflected on his playing days with Oxford and thanked the Kennett Old Timers Baseball Association for celebrating the game of baseball.
Dave Hons 
Hons was a teammate of Fowler on the Oxford Hornet squad that won the Southern Chester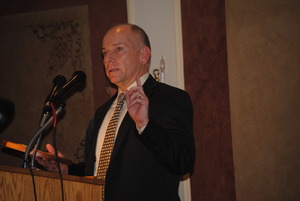 County League title. Hons was the starting second baseball for Oxford from 1978 to 1980, and was the co-captain of the championship team. He led the league in batting with a .432 batting average and was named team MVP as a senior. He was voted as a first team all-league selection in 1980 and was also named MVP of the Southern Chester County League in 1980. While also at Oxford, he was a three-year player on the varsity football team, and was voted the MVP of the team as a junior and Best Offensive Player as a senior. He broke a school passing record with 253 yards in one game. He participated in several professional tryouts and played Division1 baseball at Towson University in 1983 and 1984. He went on to work in professional baseball with the Philadelphia Phillies Class A Minor League Peninsula Pilots. He was also the general manager of the Chicago White Sox Class A Minor League team in 1986 and 1987.
"It's really nice to be inducted with Scott Fowler," Hons said. "He's a hall of famer—as a player and as a person."
John Peet, III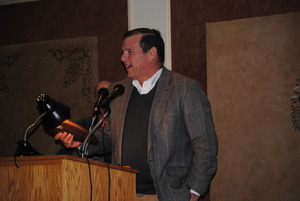 Peet started his baseball playing with the Marple Newtown Little League, where he was a shortstop and pitcher. He went on to play with the Marple Newtown Babe Ruth League, the Marple Newtown American Legion, and the Taft School. As a high school player, he was a first baseman, catcher, and pitcher. He went on to play catcher with the University of Virginia. Later he was a standout with the Media Delco League team, the West Chester Adult League Team, the Kennett MSBL League team, the Delco League MSBL team, and the Tri-State MSBL over-50 League. He has earned many awards through the years, including numerous all-star team berths. He was selected as the MVP of the Kennett MSBL League twice, Pitcher of the Year once, and earned the Player of the Decade Award.
Peet coached KAU ball for five years and was the All-Star Team coach two times. He also started the Kennett Junior Legion program and was a coach for three years.
"At the age of 40, I thought I was done playing baseball," Peet said. "Now, 23 years later, I'm still playing and I very much appreciate it.
There were so many mentions of the area's adult leagues, and the contributions of people like Potter, that Keith Craig, the master of ceremonies, joked that Kennett Old Timers officials had already decided to rename the organization the Steve Potter Baseball Association in time for the 2015 event.
One unique aspect of this year's banquet was the salute to the 2013 Senior International All-Star team from Kennett Square that won the U.S. championships last summer during a remarkable run.
The team's manager, Todd Duerr, talked about the importance of the support that the team received from the community. 
"What we're celebrating tonight is baseball and community," Duerr said, explaining that the support was critical to a team of 16-year-olds.
The Kennett Kings will also be honored at a Philadelphia Phillies game some time in 2014.
At some point in the future, maybe the Kennett Kings players will find themselves as members of the Kennett Old Timers Baseball Hall of Fame.