Scarborough's 'Four Seasons' reflects the region's beauty
10/16/2013 05:07PM ● By ACL
'Morning Light'
By John Chambless
Staff Writer
Paul Scarborough has attracted a legion of admirers and buyers with his colorful views of the Brandywine region, done in a variety of sizes – from little 5-by-7 accents to wall-filling vistas. People love his work because it delivers serenity with a high level of skill. It's hard to dislike his pleasant scenes, and the Chadds Ford Gallery has a long history of successful shows with him.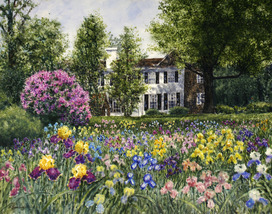 "Scarborough Fair: Four Seasons," which opened last weekend, is a large cross-section of the artist's recent works, and it will certainly please longtime fans. While there's nothing wrong with Scarborough's pretty landscapes, when he takes a slight turn, the paintings pop even more. "Burning Off" is an intriguing nighttime view of a barn with its vertical boards catching the glow of a carefully tended fire nearby. With its just-right glow and the expanse of almost-night sky overhead, it has a nice air of quiet mystery. Likewise, "Frosty Evening" benefits from its blue-and-white palette, capturing a full moon over a bridge and stream, with frost gilding the tree branches on either side of the icy water.
The smaller winter views – "Winter Trail," "Field Stream," "Backfield Road" and "Approaching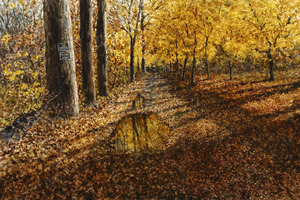 Storm" – perfectly capture the frost-dusted field stubble and some wonderful, windswept clouds.
"Murphy Road" is a warm symphony of autumn colors, showing a fall day when leaves blanket the ground, matched by the yellow glow of the trees above.
Scarborough has a way with water as well, with nicely rendered waves in the lighthouse views "Ship John" and the small "Brandywine Light." The large "Evening Tide," a striking view of nighttime shoreline, is particulalry fine.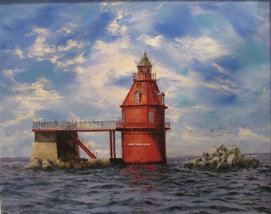 The exuberant "Hollyhocks and Lace" is a patchwork of delicate blooms and stems, a composition that's packed full of green, pink and purple. Likewise, "Goodstay Gardens" has another colorful foreground of flowers, with a historic stone home in the center of the scene.
There are little bits of whimsy here and there, such as Scarborough's trademark red bird that's worked into most of these works, as well as the snowman's hat in "Flyers Fan" and the expressive portrait, "Earl."
But for the most part, Scarborough keenly observes the region's beauty and reflects it back to us in neatly composed works that glow with light and life.
"Scarborough Fair: Four Seasons" continues at the Chadds Ford Gallery (1609 Baltimore Pike, Chadds Ford) through Oct. 27. Gallery hours are Tuesday through Saturday from 10 a.m. to 5 p.m., and Sunday from noon to 5 p.m. Call 610-388-2412 or visit www.awyethgallery.com.
"Scarborough Fair: Four Seasons" [4 Images]
Click Any Image To Expand