Taking steps toward a diabetes cure
07/24/2013 03:32PM ● By ACL
Young people from across the country and overseas took part in the Children's Congress to ask for continued research funding for diabetes.
By John Chambless
Staff Writer
Lydia Rehrman remembers every detail of the day her daughter Amelia, then 4 years old, was diagnosed with type 1 diabetes.
"It was at the Mushroom Festival," Lydia said this week during an interview. "I had this big thermos of water and she drank the whole thing. I was thinking, 'What is going on? Something's not right.' It was her first week of preschool. I took her to school on that Monday and took a urine sample to the doctor, and they called and said, 'Get her here right away.' I got her, took her to Dupont Hospital, and that's where she was diagnosed. … Type 1 is immediate onset, and you're immediately insulin dependent for life."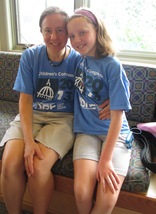 Now 11, Amelia doesn't remember everything about those early days, but she does remember the needles she had to have. "Thankfully, her sugar wasn't too high when she was admitted to ths hospital," Lydia said. "It was only in the 200s. You hear about some kids who are in the thousands - a deadly serious situation.
"They keep you in the hospital for three days because they have to train you," Lydia added. "It's like you're going home with a new baby. Everything's different. We were trained how to do the needles and all that stuff at the hospital."
There are two sets of twins in the Rehrman family, but no history of diabetes in the family or in Amelia's siblings - although they are being closely watched for any symptoms. The family lives in West Grove, where Amelia and her siblings - Maddie, Leah and Ben - are home-schooled.
Type 1 diabetes is not related to diet or lack of exercise. It occurs when the pancreas does not produce enough insulin to break down the sugars in food. Decades ago, it was frequently fatal. Today, it can be managed with careful monitoring of sugar levels and use of insulin.
When she was 7, Amelia got a small insulin pump that she wears every day.
"Every three days I have to change the (injection) site," Amelia said. "So instead of having a bunch of needles every day, I only have one every three days, except for pricking my finger to test my sugar. It just makes it easier to give insulin."
The pump allows Amelia to play with her friends and siblings, and eat pretty much what she wants - although treats like birthday cake have to be small, and her insulin levels have to be watched carefully afterwards to make sure that occasional treats don't cause a problem.
In early July, Amelia went to Washington, D.C. with her family to take part in the three-day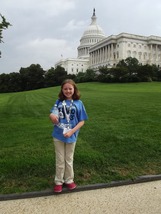 Children's Congress put on by the JDRF (formerly known as the Juvenile Diabetes Research Foundation).
"They pick 150 kids out of 1,500 applications," Amelia said. "The first day, we sang a song with Crystal Bowersox from 'American Idol,' who also has diabetes. The song was called 'Promise to Remember Me.' I talked to Congress about giving more money to the JDRF and the Special Diabetes  Program."
The young people met with their congressmen to put a face on the problem of juvenile diabetes. About half of the money JDRF uses for research is raised by volunteers and groups. The other half comes from the federal government. "They're not just asking just for a handout," Amelia said, "but they need that extra money to get these kids cured. And they're so close to a cure.
"There are all sorts of things being tested," Lydia said, including an artificial pancreas system that may someday eliminate the daily grind of testing and monitoring for 18 months at a time.
While in Washington, Amelia met Rep. Joe Pitts and Sen. Casey, and got "this close" to Vice President Joe Biden in a group photo, Lydia said, smiling. But mainly, she enjoyed hanging out for three days with young people who understood what it means to manage type 1 diabetes.
"She made a lot of really good friends," Lydia said. "They had a lot of fun doing things. Even meals at the restaurants were fun, with them all testing their sugar and being concerned about their carbohydrates, where usually it's just her that has to do that. It was nice to be with other kids."
Amelia's commitment to funding research also extends to the Diabetes Dash, an event she started four years ago in New Garden Township Park. It's held in November each year.
"I asked people to come to the park with their bikes, scooters and roller skates, and ride around the park and give a donation to diabetes," she said. Each year, the event raises $300 to $400, which Amelia sends to the JDRF.
Amelia writes a blog (peace.love.hope.diabetes), where she posts photos of her meter and her insulin pump, explains the process of testing your blood, and opens a forum for questions from other kids about their concerns. An everyday challenge -- like being denied a cookie when her siblings are having them -- is addressed in a recent post.
"I just really enjoy blogging, and I thought we could share experiences with other people and talk about diabetes," she said.
She posted photos and comments about her trip to Washington on another blog (walkingtowashington), and she operates a site where she posts the photos she takes with her own camera. Her images of nature show a keen sense of composition. She wants to pursue photography as she grows up, particularly art photos of nature and portraits.
With so much going on in her life, Amelia said that type 1 diabetes doesn't hold her back. She can't describe the feeling she gets when her blood sugar is too high or low, but she knows when it's happening and what she can do to stabilize herself. As she enters her teen years, she said, she wants to keep raising awareness for research until a cure is found.
"I can't wait to throw away all the needles and the stuff that we have," Lydia said, smiling. "That will be a beautiful day."