Rediscovering the lost art of free time in nature

07/10/2013 08:55AM, Published by ACL, Categories:
---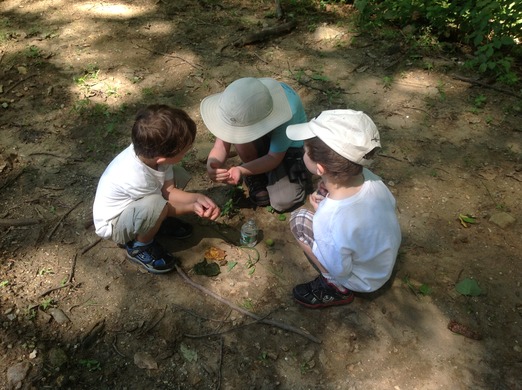 The Land Conservancy for Southern Chester County (TLC) is introducing "Free Time Adventures in Nature," which will connect kids with interactive outdoor nature activities at the Bucktoe Creek and Stateline Woods preserves.
---
---
By Richard L. Gaw
Staff Writer
Once upon a time, in a time seemingly far, far away, children who grew up in southern Chester County saw nature as a glorious stage of imagination, where they could skip stones into ponds, watch tadpoles grow into frogs, pretend to be adventurers, and feel the summer sun burn through the tops of trees and onto their young faces.
Fast forward to today's children, who are being raised on I-Pods, I-Pads, cell phones in constant connection with their parents and their on-line friends, and the notion that the great outdoors is something to be avoided, a cesspool of swarming insects and dangerous critters that cause nothing but danger. Within the span of a few generations, nature has gone from being an outdoor classroom to an exploratory desert.
Understanding that the void between nature and children has nearly reached a crisis point, the Land Conservancy for Southern Chester County (TLC) is introducing "Free Time Adventures in Nature," a series of four days dedicated to connecting kids with interactive outdoor nature activities at the Bucktoe Creek and Stateline Woods preserves. The adult-supervised programs, which run from July 29 to Aug. 8, will give young people the opportunity to go on a salamander hunt, build woodland forts, search for various types of birds, wade in streams, and enjoy the thrill of having non-regimented time. 
"We're finding that kids are so scheduled, that nearly every activity is built according to a time and a day and an hour," said Gwen Lacy, TLC executive director. "In creating this camp, we wanted to help find those lost arts we had in childhood, to get kids to use their imagination, all within the context of the confines of free time in nature. This whole premise is built on, 'Let's go down to the stream and wade around and get muddy and and see what happens.'"
The program is also intended to de-mystify fears and eliminate presumed danger zones about nature that many children have learned from their parents. "Kids are generally not afraid of things until they're taught to be afraid," Lacy said. "Nature is its own microcosm of both fear and cure. We shouldn't let these things keep us from nature. If we do, then we lose nature."
The invitation is open not only for children, but for grandparents, caretakers, babysitters and parents, who can participate free-of-charge. "If you really want to know what your child's doing, here's an opportunity to put the cell phone down and enjoy nature with your children," Lacy said. "This gives you a chance to see your child in the natural world, instead of seeing them absorbed in a virtual world."
In addition to exploring the valleys, streams, fields and ponds of the two preserves, children will be taken on a trip to the The Gnome Countryside in Kirkwood, Pa., owned and operated by Rich Humphreys, who introduces children to a magical land of nature on his property, filled with the appearances - whether real or imagined - of gnomes.
TLC Education Coordinator Paige Minka  enjoys being able to see young children evolve through the TLC's nature programs. "I have one young boy camper who went from being very quiet to being able to identify plants," she said. "He was so excited that he ended up bringing his friends with him. If we can touch one child through this experience, we've done our job."   
"Free Time Adventures in Nature" is being sponsored in cooperation with Trail Creek Outfitters in Glen Mills, Pa. The program will be held on Mon., July 29 and Mon., Aug. 5 at the Bucktoe Creek Preserve, 432 Sharp Road, Avondale; and  on Thurs., Aug. 1 and Thurs., Aug. 8, at Stateline Woods Preserve, 814 Merrybell Lane, Kennett Square. Each program will be held from 10 a.m. to 2 p.m. and are free to TLC members and $5 for non-members. Lunch will be provided. To register, call 610-347-0347, ext. 104, or visit www.tlcforscc.org.
---
---
---
land conservancy for southern chester county the gnome countryside
---