Pride and Patriotism in Kennett Square
05/30/2013 01:37AM ● By Brian O
Kennett Square's Memorial Day Parade Honors Veterans and Celebrates the USA
By Carla Lucas
Correspondent
US flags proudly waved along the Kennett Square Parade route as military marchers, reenactors, floats, and vehicles passed through town. Mingled between the military-themed units were bag pipers, dancers, bands, antique automobiles, tractors, athletes, scouts, and bicyclists. The Kennett Memorial Day Parade honored our veterans and at the same time celebrated what it means to be an American.
Kennett Square has held a parade on Memorial Day since WWII. Bill Taylor, who has organized the Kennett Square Memorial Day Parade since Kennett Square's Sesquicentennial in 2005, says the parade honors the memory of all veterans past and present. This year's parade featured about 1,000 people in over 100 marching units. With estimates of 15,000 spectators it is one of the largest Memorial Day Parades in the region. Highlights are below.
The Grand Marshalls (photos 11 and 14)
11: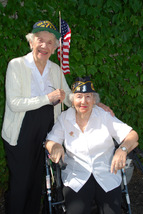 Bernice Smith and Rose Lowery were the first two female veterans honored as Grand Marshalls in the Kennett parade. 
Bernice (90) served in the US Navy from 1943 to 1946. She was among the first 300 Waves that came into Washington DC during WWII to train midshipmen. After the War, she remained in Washington working for the White House and the State Department. She retired in the Kennett Square area.
Rose (90) served in the Marine Corps, stationed at Fort Pendleton in Oceanside California from 1943 to 1945. Rose chose the Marine Corps because it a challenge to get in. She worked in the Post Exchange during her years in the Corps.
14: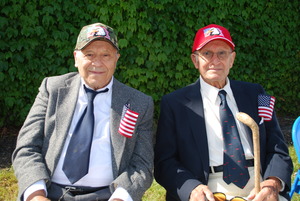 This year's other Grand Marshalls were Kennett Square's Tavoni Brothers: Anthony (left) and Dominick (right) and Samuel in memorium. 
Anthony, KHS Class of 1938, served with the 32nd Infantry Division in 1942-43 in the Pacific. He was transferred to Borland, Australia, where he worked to find housing for the troops. One highlight of his experience was having General Douglas Mac Arthur pass within feet of him while on duty in Borland.
Dominick, KHS Class of 1944, served in the Merchant Marines from 1944-46. He was on a high octane tanker delivering fuel from India to Italy, Scotland, Gibraltar, among other places.
Samuel flew in B-26 bombers with the Air Force. He was shot down and wounded during his tour of duty.
Pride and Patriotism in Kennett Square [35 Images]
Click Any Image To Expand