The rich history of Quaker communities spotlighted in driving tour this weekend
07/16/2014 11:03PM ● By Acl
A view of the Kennett Meeting House.
By John Chambless
Staff Writer
Three hundred years of Quaker history will be open to everyone this weekend.
To mark the 300th anniversary of the London Grove Friends Meeting, 20 Quaker meetinghouses will be open on July 19 and 20 for self-driving tours. There are also three thematic tours that put selected locations in historic context. Admission is free.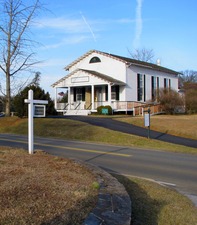 Brochures will be available at every location, and participants can pick which sites to visit, or follow a trail through history. The tours are being presented in conjunction with the Quaker Meetings of the Western Quarter, which includes Chester County and nearby Delaware and Maryland.
The simple places of worship and contemplation reflect the spiritual beliefs of Quakers, but their long history reflects the significant role of Quakers in settling this region. There will be 11 active Quaker meetings and nine historic meetinghouses on the tour.
The oldest location on the tour is Centre Meeting in Greenville, Del., which traces its roots to 1690. For the "Follow the Path of the Quaker Settlers" driving tour, participants can start in Greenville and follow a trail that leads to the Kendal and Crosslands Meetings in Kennett Square, which were founded in 1975. The "Explorers Westward to Colora Meeting" tour starts at Colora Meeting, an 1841 Meetinghouse in Colora, Md., and includes several stops that end at Crosslands Meeting in Kennett Square. The "Underground Railroad Theme" tour loops through several meetinghouses and other buildings that are suspected to have played a role in harboring slaves escaping southern states in the 1800s.
Small bus tours will be taking the Underground Railroad tour on July 19, and the "Westward to Colora Meeting" tour on July 20, leaving from the Crosslands parking lot at 9:30 a.m. Participants can ride the bus, or drive behind the bus as it visits the sites. For bus reservations, e-mail Mary Etta Clendenin at [email protected], giving your name, e-mail or phone number, and the tour you want to take.
Locations, a map and brochure are available online at www.londongrovefriends.org, or www.westernquarterquakers.org. Maps and brochures are also at each of the stops. The tour hours are July 19 from 10 a.m. to 4 p.m., and July 20 from 1 to 4 p.m. The sites are:
Centre Meeting (311 Centre Meeting and Adams Dam roads, Greenville, Del.) from 1690;
Old Kennett Meeting (489 Meetinghouse Rd., Kennett Square) from 1710;
London Grove Meeting (500 W. Street Rd., Kennett Square) from 1714;
New Garden Meeting (857 Newark Rd., Toughkenamon) from 1715;
Hockessin Meeting (1501 Old Wilmington Rd., Hockessin, Del.) from 1738;
West Grove Meeting (153 E. Harmony Rd., West Grove) from 1786;
Fallowfield Meeting (800 Doe Run Rd., Coatesville) from 1792;
Marlborough Meeting (361 Marlborough Rd., Kennett Square) from 1799;
Kennett Meeting (125 W. Sickles St., Kennett Square) from 1814;
Pennsgrove Meeting (725 Pennsgrove Rd., Lincoln University) from 1820;
New West Grove Meeting (609 W. State Rd., West Grove) from 1831;
London Britain Meeting (1415 New London Rd., Landenberg) from 1834;
Parkersville Meeting (1232 Parkersville Rd., Kennett Square) from 1836;
Mill Creek Meeting (1140 Doe Run Rd., Newark, Del.) from 1837;
Homeville Meeting (4877 Homeville Rd., Oxford) from 1839;
Colora Meeting (Colora Road, Colora, Md.) from 1841;
Longwood Progressive Meeting (300 Greenwood Rd., Kennett Square) from 1853;
Newark Meeting (461 Phillips Ave., Newark, Del.) from 1963;
Kendal and Crosslands Meetings (225 Kendal Dr., and 1660 Street Rd., Kennett Square) from 1975.