Enjoying the tastes of a town
07/09/2014 09:46PM ● By Acl
Elizabeth Davis-Cerami of Yo'r So Sweet shares a sample of her crepes with guests on the Taste Kennett Food Tour.
By Richard L. Gaw
Staff Writer
Last November, Ann Vaughan and husband, Jeff, of Kennett Township, spent a weekend in Rehoboth Beach, Del. Those couple of days would soon create what may be a major impact on the cultural and culinary life of Kennett Square.


Looking on Trip Advisor for activities in the Rehoboth area, Vaughan came across an event called "Eating Rehoboth." She and her husband signed up, and soon the Vaughans were guided around Rehoboth with other guests, enjoying wine and samples at some of the town's best restaurants. Along the way, they mingled with chefs, restaurant owners and other food lovers.
This past February, they went on a similar food tour in the Little Italy section of New York City. There, they were told about the area's history while ducking in and out of bistros, markets and cafes. Being self-described foodies, they found themselves in the middle of culinary bliss.
As a resident of southern Chester County for the past 16 years, Vaughan has seen the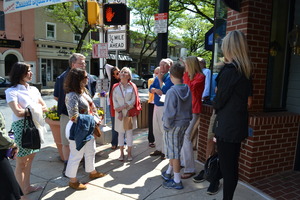 transformation of Kennett Square with new restaurants, new proprietors, and new opportunities -- all of which have galvanized the entire town.
Soon after she and Jeff returned from New York City, Vaughan began to plan a walking and tasting tour in Kennett Square. Now in its third month, the Taste Kennett Food Tours have drawn visitors to Kennett Square for a three-hour trip to foodie paradise, including visits to five restaurants, two ice cream stores, a wine cellar and Kennett Square's best-known meeting place.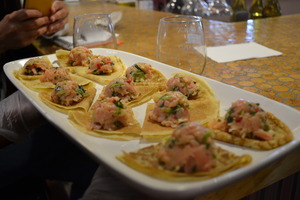 "We've got Mexican, Asian, Italian, new American, and some of the best ice cream around, a few wineries and a new French creperie, and then there's Talula's Table, an institution in itself," Vaughan said. "When I think of Kennett Square, I think of its diversity of food choices at all different price points. That's what we imagined; to somehow connect them all as part of one destination."
Held on Sunday afternoon, the culinary tour begins with a glass of wine at the Flickerwood Wine Cellars, then moves up State Street to La Verona for fish and pasta, and then onto Michoacana Grill for a taste of either a fish or chicken taco. From there, guests will venture to Lily's Asian Restaurant for a bite of sushi, and then onto the Mushroom Cap, where they watch a video about the mushroom industry in Kennett Square. Along the way, Vaughan provides a running commentary on Kennett Square's history and fun facts.
After the Mushroom Cap, guests take a few steps down the street to Yo'r So Sweet at The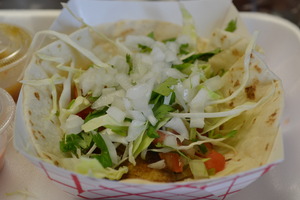 Market at Liberty Place, where they enjoy a creperie presentation that is paired with wines from the Paradocx Winery tasting room in The Market.
After sampling ice cream at Punk'd Pineapple, the tour continues up to Portobello's for a tasting, then onto La Michoacana for some ice cream. Finally, after a culinary trip around the world, the tour finishes at Talula's Table.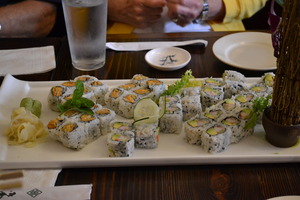 Although most stops along the tour serve the same offerings, La Verona executive chef Jack Mavraj devises a new menu for every tour. Mavraj serves flavors that complement the La Verona menu, such as mozzarella caprese, handmade ravioli, artichokes, veal, tuna and salmon.
For every recognizable face that La Verona manager Sam Mavraj sees on the tour, there are twice as many new ones.
"There have been some guests on the tour who have already been to La Verona, but more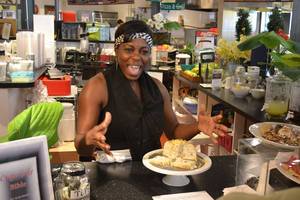 importantly, there are people who come on this tour who have never been to our restaurant before," he said. "It's a great idea, because it recognizes Kennett Square not only as a great town, but a great town known for its food."
"I love the fact that the ice cream store is the last stop on the tour," said Noelia Scharon of La Michoacana Homemade Ice Cream on State Street. "It brings people who've never been here before to sample the foods of Kennett Square."
Having a superb idea is one thing, but putting it into action is another. With a template in place, it came down to speaking with the right people. Earlier this year, Vaughan e-mailed the owners of "Eating Rehoboth," each of whom provided ideas and enthusiasm. One of the owners was Paul Cullen, who rose to fame as the bass player for Bad Company in the 1970s, and has since become a chef and wine aficionado in southern Delaware. He didn't just share a few tips over the phone, though. Cullen drove to the Vaughan's house in Pennsylvania and stayed for three hours, imparting his experience and advice. There, the concept of Taste Kennett Food Tours officially took root.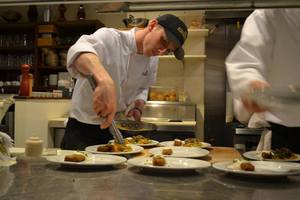 Vaughan then began meeting with potential restaurants and locations, and although some backed off, those who agreed to become a part of the tour were incredibly enthusiastic. Looking to flavor her tour with information about Kennett Square, Vaughan got fun facts about the town from Lynn Sinclair, chairperson of the Kennett Square Historical Commission.
Vaughan said that she may broaden the scope of Taste Kennett to arrange private tours, as well as special events for businesses, but for now, she's content to strengthen her current format in what she believes is a perfect town for it.
"There was a couple on the tour last week who said that they've done a lot of food tours. They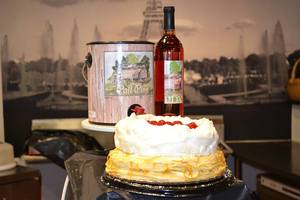 told me that they've done tours in big cities, but that their favorites were in small markets – like Kennett Square," Vaughan said. "They said that there's more of a personal connection with chefs and owners. So, far, guests on the Taste Kennett Food Tours have been overwhelmingly enthusiastic," she added. "They can't wait to come back to our partnering restaurants. Every time I leave the tour, I'm on this personal high."
Tours are held on Sunday afternoons through November, beginning at 1 p.m., and cost $45 per person. For more information, or to sign up for a tour, visit www.tastekennett.com. Advance registration is required.