Corey steals the show
06/25/2014 10:48AM ● By Acl
By Richard L. Gaw
Staff Writer
For the first hour or so of Avon Grove High School's 86th annual commencement, held June 18 at the Bob Carpenter Center in Newark, there was truly nothing out of the ordinary to distinguish much of it from any other graduation ceremony.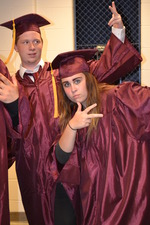 In row upon row on the floor of the arena, the gowns and mortar caps of each of the 442 graduates were, as always, maroon and gold, and above them, working cell phone cameras and applauding, were parents and loved ones. The Avon Grove High School Graduation Band, under the direction of Rebecca Staznik, played Elgar's "Pomp and Circumstance" when the graduates arrived, and at the podium, school principal Tom Alexander offered sincere congratulations to the graduating class, noting that the class had earned a total of $1.9 million in scholarship funds. Student addresses, some solemn and some humorous, followed Alexander, and when it came time to collect diplomas, Vice Principal Angela Houghton was the first to greet each graduating senior after their name was called by Senior Assistant Principal Gary Benasutti.
At a few minutes after eight, however, Benasutti called the name, "Corey Marie Beattie," and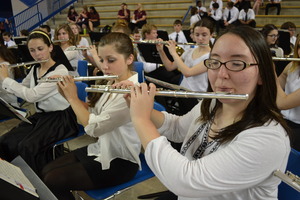 suddenly, a sound like a thunderous wave shook the Bob Carpenter Center. From the podium to the farthest reaches of the arena, 4,000 students and guests stood and applauded as Beattie, maneuvering in a walker and assisted by her mother, Marie, gave a big kiss to the welcoming audience. Wearing her mortar cap, a graduating gown and a huge smile, Beattie fell into the arms of Alexander in a warm embrace.
Ninety seconds later, after Beattie had finished crossing the stage, the applause finally subsided.
The crowd had special reason to stand.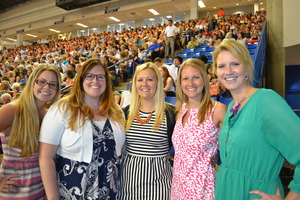 As the 2010 school year got underway, Beattie was an active senior at Avon Grove. She played softball, participated in track and field, was on the diving team and a member of a competitive cheerleading team. She loved music, and was a member of the choir and played the trumpet in the school band. After graduation, she intended to attend culinary school after graduation, when on Oct. 2, she suffered a broken neck and traumatic brain injury while a passenger in a car at the intersection of Routes 896 and 841. Since then, her mother and hundreds of others have spearheaded an initiative to persuade PennDOT to make the road safer. Through their efforts, an additional stop sign has been added to the intersection.
During that time, Corey's recovery has been a slow but steady one, with rehabilitation and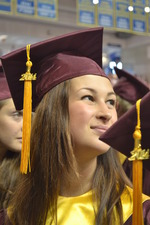 therapy an almost daily part of her life.
Crossing the graduation stage, said her mother, is merely one of her many goals in life.
"It was a month into her senior year when she had the accident, and she wanted to go to
culinary school, so we have been fighting to get her back to walking and talking and eating and speaking, and this is just one of the goals," said Marie. "The next will be to get her back into a kitchen so that she can achieve her dream of being a chef."
The goal is already underway. The Beattie family has found a local chef who has agreed to start working with Corey. Under his tutelage, she will learn the basics of cutting and cooking, as well as become familiar with the tools a chef needs in a kitchen.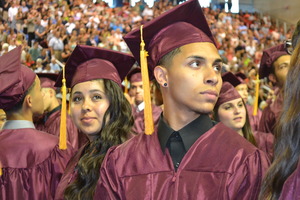 "We don't know whether or not she's going to get better, but we act as if she will," Marie said. "You're afraid to hope but you want to, but you have to believe, otherwise you don't have hope. I have to tell you, this is a day we always hoped for, but I couldn't tell you that it would ever get here. Corey inspires more people, because she has this never-give-up, never-give-in attitude."
In her written address to her fellow graduates, listed in the commencement program, Beattie encouraged students to not be afraid to fail. Quoting Anne Sullivan, Helen Keller's teacher, Beattie wrote, "Each time you fail, start all over again, and you will grow stronger until you have accomplished a purpose..."
"I don't consider myself a failure, I am just a human being learning some lessons from my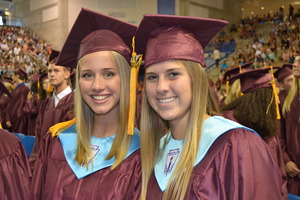 challenge," Beattie wrote. "I hope that we all keep failing so we can learn great things and hopefully inspire others to keep going when they think they've failed."
Senior speaker Edgar Garcia Elizade kicked off the student speakers for the evening, which was followed by addresses by class salutatorian Ethan Phillips and class valedictorian Marcus Forst. After a performance of the Stephen Schwartz song, "For Good," by Alexandra Taylor and Noah Mogaka and backed by the Senior Ensemble, graduates Maggie Winter and Kristian Grier delivered an amusing speech entitled, "We Have a Dream," a cut-and-paste homage to some famous speeches.
Class president Nathaniel Howard rounded out the addresses with his speech, "Rise Above."
Avon Grove High School Graduation 2014 [5 Images]
Click Any Image To Expand