Sold out wine & jazz festival draws raves for new format
06/11/2014 02:06PM ● By Acl
Tom Moon's Jazz Casual performed for audiences gathered near the Italian Water Garden.
By Richard L. Gaw
Staff Writer
As it was in the first few years of the annual Longwood Gardens' Wine & Jazz Festival, aficionados of both the vibe and the vine were ushered to a downward-sloping meadow on the very edge of the Gardens' vast acreage, where they shared a single space with musicians and winemakers.
At this years' festival, held June 7, everybody had the entirety of the gardens to themselves.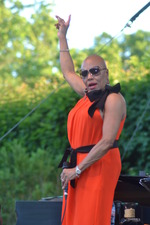 In a strategic move that broadened the playing field of the festival that allowed more than 5,000 wine and jazz lovers to walk the grounds on a mostly sunny afternoon, festival promoters placed the main stage on the far end of the Main Fountain Garden for the festival's headliners, while placing both winery stations and more intimate jazz groups at the Italian Water Garden and Pierce-du Pont House. In addition, access to the gardens was limited to festival goers only, who enjoyed the opportunity to freely roam about the acreage between musical sets and free samples offered at 16 wine stations. Throughout the afternoon, guests set up camp not only in the grassy crevices of the Main Fountain Garden, but in the Cow Lot, in front of the Conservatory, and along the pond near the Italian Water Garden, and what they received was a musical line-up headlined by an early-evening performance of jazz legend Dee Dee Bridgewater.
While guests enjoyed three performances by the Philadelphia-based Tony Miceli Quartet in the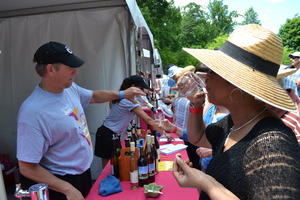 Open Air Theatre, Tom Moon's Jazz Casual entertained near the Italian Water Garden and Mike Kennedy, a jazz trio from Philadelphia, played at the Pierce-du Pont House throughout the day.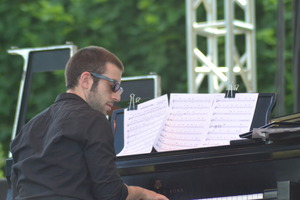 The Jazz Orchestra of Philadelphia, led by artistic director and trumpeter Terell Stafford, opened the main stage with a blistering 45-minute set that featured solos by nearly every member of the Orchestra.
At last year's festival, headliner Branford Marsalis baked in the 95-degree heat of a harsh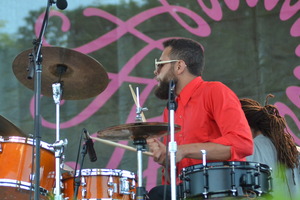 summer sun; on Saturday, his brother Delfeayo and his quintet were the fresh cool breeze of this year's festival. For more than an hour, Marsalis and his band mates alternated between the soaring sounds of trombone and clarinet and the bombastic burst of a New Orleans funeral.
Of the 16 Pennsylvania wineries who set up at the festival, Chester County was represented by Penns Woods Winery, Chaddsford Winery, Paradocx Vineyards and Ten Gallon Hat Winery.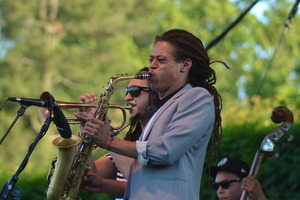 Following a one-hour dinner and wine break, Bridgewater, wearing a bright orange dress and backed by a talented group of young musicians, gave an opening thanks to the appreciative audience and dove fully into a 90-minute set that featured musical selections from her 2011 album, Eleanora Fagan (1915-1950): To Billie With Love From Dee Dee, which won the 2011 Grammy for Best Jazz Vocal Album.