Students in the spotlight at Oxford Arts Alliance
06/11/2014 01:26PM ● By Acl
A portrait of Elizabeth Anne Seton by Kara Rieker.
By John Chambless
Staff Writer
Young artists throughout the Oxford Area School District get a chance to shine at the Annual Student Show at the Oxford Arts Alliance.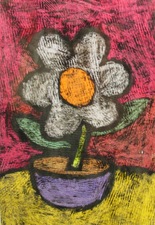 The show has charming works by students as young as third grade who have done something special with their art class assignments, as well as works by students who are talented way beyond their years.
You can sense the art teacher behind many of these works, which share a similar theme or materials. But you can't help but smile as you discover little pieces such as Anna Cooney's rounded ceramic bird sculpture, whose squat shape and wild feathers give the work great personality; or the painted portraits of various saints by sixth graders at the Sacred Heart School. She doesn't realize it, but Kara Rieker has painted a profile of Elizabeth Anne Seton that perfectly mirrors the straightforward style of celebrated folk artist Sam Doyle.
Aaron Goldman's "Dancing Flower" is colorful and fun, as it the pot of cartoonish flowers by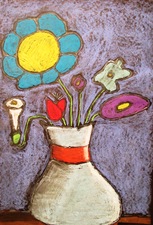 Anna Kline. Kate Kline's multi-patterned bird drawing is very imaginatively embellished; and the sly, sideways smile on Caroline Tipton's shadow figure is pure cuteness. She's a third grader at Sacred Heart School.
At the high end of technical skill is 16-year-old Jen Roth, whose small watercolor landscapes, such as "Sea of Galilee," are particularly fine. Kennedy Zduniak will be garnering a lot of attention, though, with three drawings that reflect some dazzling skill with a pencil. Kennedy, 12, is from Octorara Middle School, and already has the skill of a professional artist. The drawing of a tiger immediately draws you in, and the dragon drawing above it is equally good.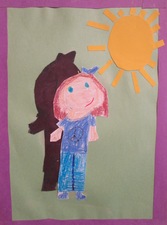 Wherever you look in the gallery, though, you'll see evidence of how talented these students are. The joy of creativity is clear – whether it's the freewheeling looseness of the youngest students, or the carefully rendered depictions done by older students. You don't have to know whose these students are to be impressed with all that they've accomplished.
The Annual Student Art Show continues through June 20 at the Oxford Arts Alliance (38 S. Third St., Oxford). Gallery hours are Tuesday, Thursday and Friday from 9 a.m. to 2 p.m., and Saturday from 11 a.m. to 4 p.m. Call 610-467-0301 or visit www.oxfordart.org.
Oxford Arts Alliance Student Art Show- June 2014 [6 Images]
Click Any Image To Expand