Helping non-profits serve others
05/07/2014 02:16PM ● By Acl
The Mushroom Festival's grant recipients for 2014 at the Mushroom Festival Spring Gala at the Red Clay Room on May 1.
By Carla Lucas
Correspondent
Celebrating mushrooms, Pennsylvania's number-one cash crop, each September is a lot of fun. The Mushroom Festival brings thousands of people to Kennett Square Borough and highlights the region's mushroom industry. But six months after the last fried mushroom is eaten, the carnival leaves town and the displays are packed away, the benefits are felt in the region's non-profit community, when the Mushroom Festival distributes its grants from the proceeds.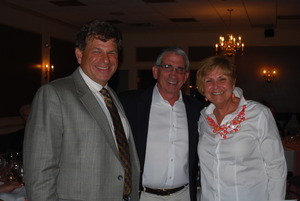 On May 1, at the Mushroom Festival's Spring Gala, supporters gathered at the Red Clay Room to celebrate the 39 non-profit organizations that received more than $75,000 in grants this year. The organizations receiving funds were chosen through a grant application process, and represent a wide variety of organizations -- from emergency services to social services to organizations serving early childhood, school-age, and high-school students, to those serving the elderly, plus some providing services enjoyed by everyone.
Nina Kelly was the guest speaker at the event. As the director of sales and marketing for the Chester County Conference and Visitors Bureau, she sees the impact the festival and the mushroom industry have on the area's tourism. But as a beneficiary of Mushroom Festival grants to the ALS (Lou Gehrig's Disease) Association, her family understands on a personal level the impact the grants have on people and communities.
Also at the Spring Gala, the honorary chairs for the 2014 festival were announced. Terry and Rich Forte were surprised as their names were announced as this year's honorees. They were chosen for their dedication to the Mushroom Festival over the years.
It was announced that a special donation was made to the Kennett Area Park Authority's Mushroom Playground Fund as the "Charity of Choice" of the 2013 honorary chairs, Jo Beth and Mark Thompson.
More than $150,000 was requested from many more organizations than received grants.
"It's a hard decision every year to determine how to divide our grant funds," said Kathi Lafferty, the Mushroom Festival's coordinator. "We made a few hard decisions in choosing a wide variety of organizations that help various groups of people in our diverse community. This wouldn't be possible without the generous support of our volunteers and our sponsors."
The local organizations receiving Mushroom Festival grants and a description of how the funds will be used include the following:
・ Adult Care of Chester County: to purchase furniture for the newly expanded SCC adult day care center for its Alzheimer's day care patients
・ ALS Association: to purchase accessibility ramping materials for Chester County clients
・ The Arc of Chester County: to purchase iPads and assistive technology apps for classroom programs for 2-year-olds with autism.
・ Avondale Fire Co. No. 1: to purchase two positive pressure ventilation fans for use in removing smoke and gases from fire scenes.
・ Bournelyf Special Camp: for program-related transportation costs to take campers for off-site experiences such as horseback riding, canoeing, and hiking.
・ Camp Dreamcatcher: toward the cost of sponsoring two Kennett Square children to their summer camp program.
・ Canine Partners for Life: the costs of embroidery for Service Dog in Training capes, plus to purchase the hardware and wool covering needed to create custom service dog harnesses.
・ Chester County Council, Boy Scouts of America: toward expenses for the elementary and middle school ScoutReach programs for disadvantaged, at-risk, under-served youth in the Avon Grove, Kennett and Oxford school districts.
・ The Crime Victims Center: for expenses associated with support projects and activities for the Latina Teen Sexual Assault Self-Esteem Support Group, held monthly in Kennett Square.
・ Domestic Violence Center: to support the organization's Kennett Square satellite office.
・ Family Services of Chester County: to purchase furniture for outpatient mental health counseling at the organization's satellite office in Kennett Square.
・ Friends Association for Care and Protection of Children: for case management services to assist families to secure affordable and stable housing.
・ Friends Home in Kennett: to purchase supplies for the programs offered to the residents.
・ Friends of Tennis: for equipment, prizes, snacks and additional help at the organization's summer sessions.
・ Friends of White Clay Creek Preserve, a chapter of the Pennsylvania Parks and Forests Foundation: toward the purchase of a DR Brush Mower and other equipment for trail maintenance at the White Clay Creek Preserve.
・ Good Neighbors: toward the purchase of portable, reusable handicapped ramps for wheelchair access for homes in Southern Chester County.
・ Head Start: for costs associated with supplying Kindergarten Readiness Backpacks for Head Start students going to kindergarten in the fall.
・ Historic Kennett Square: for sponsorship of the Memorial Day Parade.
・ Kennett After-School Association: to cover some of the costs of transportation home at the conclusion of the After the Bell after-school program.
・ Kennett Area Park Authority: for costs associated with offering the free eight-week summer concert series at Anson B. Nixon Park.
・ Kennett Area Parks and Recreation Board: the costs associated with offering the free Kids Cross Country Race and purchasing two new scoreboards at Herb Pennock Park.
・ Kennett Area Senior Center: to purchase portable room dividers for their facility.
・ Kennett Athletic Booster Club: to install a sprinkler system for the KHS baseball infield.
・ Kennett Education Foundation: to be used to fund education grants for teachers and students in Kennett Consolidated School District
・ Kennett Fire Co. No. 1: funds toward a replacement ambulance to serve the community.
・ KHS Demon Robotics: toward the purchase of tools such as bench grinder, drill press, sander and chop saw.
・ KHS Walk In Knowledge: to support the Walk-in-Knowledge program at Kennett High School.
・ Lighthouse Youth Center: to purchase the range and fire suppression system for the new commercial kitchen at their new facility.
・ Meals on Wheels: to pay for hot, daily lunches delivered by volunteers at Luther House.
・ Oxford Area Neighborhood Services Center: to purchase food for the food cupboard in times when donations are low.
・ Paws for People: toward the purchase of T-shirts and books as incentives for children who read to their therapy dogs.
・ Quest Therapeutic Services: toward veterinary care expenses for the organization's 10 therapy horses
・ Southern Chester County Emergency Medical Services: purchase two King Vision laryngoscopes.
・ The Flash: funds toward the cost of replacement seating at the venue.
・ The Garage Community & Youth Center: to purchase after-school program supplies.
・ Tick Tock Early Learning Center: for costs associated with field trips and to bring performers to summer camp.
・ WCU Foundation: funds will help 26 blind or vision- impaired students participate in a sports summer camp program called CampAbilities.
・ Young Moms : toward starting an emergency food pantry, setting up an office space, and for purchasing incentives for their teen mom clients.
・ Youth Community Forward: for supplies for summer camp programs and transportation to the Chester County 4-H Fair.