Land Conservancy to offer nature walks in April
04/02/2014 10:36AM ● By Acl
The Land Conservancy for Southern Chester County will be offering youngsters the opportunity to learn about the positive impact of beekeeping on the environment.
By Richard L. Gaw
Staff Writer
Although Old Man Winter still manages to linger on in Chester County, it is, in fact, officially Spring, and The Land Conservancy for Southern Chester County (TLC) will soon be offering youngsters the opportunity to enjoy the new season by visiting wetlands, creating nature trails and becoming beekeepers, from April 14-18.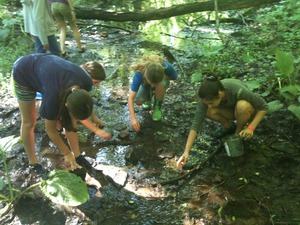 The TLC will be sponsoring "Spring Into Spring" on April 14, "Wetland Wonders" on April 15, and "Winged Wednesday" on April 16. These events will be held at the Bucktoe Creek Preserve on 432 Sharp Road in Avondale. On April 17 at Stateline Woods on 814 Merrybell Lane in Kennett Square,  youngsters will have the chance to become nature stewards of nature, by assisting TLC assistant land manager Sequoia Rock, in monitoring bird boxes, cultivating young trees and creating nature trails.
On April 18, guests will participate in a do-it-yourself day at the New Leaf Eco Center on 776 Rosedale Road in Kennett Square, which will enable them to learn about sustainable efforts through beekeeping, and removing toxins from preserved lands using mushrooms.
"We really wanted to give parents the opportunity for their childen to be outside in nature," said TLC educational coordinator, Paige Minka. "After all of the snow we saw in the winter, we felt that it would be the perfect chance to dive right into spring. We want to illustrate to their children that there is life going on in nature during all seasons, and that it's good for them to be able to see nature's life coming back around again."  
The camps are open to all children from 8-18 years of age, and the cost of each event will be $10 for TLC members and $15 for non-members. Scholarships will be available. All events begin at either 9 a.m. or 1 p.m., and include a lunch break from noon to 1 p.m. Parents are invited to pack their child's lunch. 
For complete information and to register, visit www.tlcforscc.org, e-mail [email protected], or call the TLC at 610-347-0347, ext. 104.