Gibson named officer of the year
03/26/2014 01:43PM ● By Acl
Police Officer First Class John M. Gibson II of the New Garden Police Department received the department's 2013 Officer of the Year Award at ceremonies held March 24. Gibson is pictured with his mother Marie and his children Christopher, Kayla and John III.
By Richard L. Gaw
Staff Writer
In ceremonies held at the New Garden Township Board of Supervisors meeting on March 25, New Garden Township Police Department Chief Gerald Simpson presented award citations to four police officers, including Police Officer First Class John M. Gibson II, who was named 2103 Police Officer of the Year.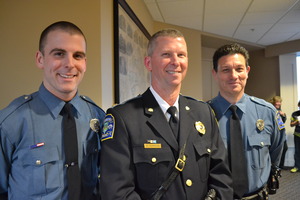 Before a packed audience of fellow police officers, family and township residents at the New Garden Township building, Simpson praised Officer Gibson for his 29-year service to the township, as well as his exemplary work on several levels. Gibson was honored for the Domino-effect of his positive attitude that impacts his fellow officers. Simpson noted that in Gibson's time on the force, he has served under five police chiefs.
"John is a large part of New Garden's history, and he plays a large part in its future," Simpson said. "John approaches his job with the vigor of a rookie. I sincerely admire you for that, John."
Gibson and fellow police officer Matthew Jones were honored with Life Saving awards for their actions on the early morning of June 15, 2013. At 1:23 a.m., Gibson and Jones were dispatched to a vehicle that had caught on fire and was parked near downed wires. Finding the driver incapacitated and semi-conscious, Jones battled the fire while Gibson made entry into the vehicle and pulled the driver from the flames, saving the life of a young man.
Chief Simpson also issued DUI Enforcement awards to Officers Jones, Gibson, Joseph P. Versagli III and Corporal Jeffrey D. Call. The officers accounted for two–thirds of the total number of DUI arrests made in the township over the past year. Versagli and Call are two-time recipients of the award.
In addition, Hon. Judge Matthew Seavey swore in new police officers Jose Reyes and Ryan D. Kushner. Chief Simpson issued both new officers challenge coins, on which are listed the department's values: human life, integrity, justice and professionalism.
Chief Simpson also honored Officer Kristin Menna for her efforts on March 1, 2013, when her medical emergency life saving procedures administered to a man suffering from a heroin overdose, which included the application of chest compressions and CPR, resulted in the saving of the man's life.
Police Officer Joseph Cooper was honored by Simpson for his apprehension of a subject who had endangered the public in the early morning hours of March 15, 2013, in Toughkenamon. While on patrol, Officer Cooper heard four gunshots coming from a residential area. Seeing a vehicle leaving the vicinity of the gunfire, he tracked down the vehicle, where he observed evidence that led to the recovery of a firearm and the arrest of the suspect.