Young aviators take flight in classroom
03/05/2014 01:15PM ● By Acl
Jon Martin, general manager of the New Garden Flying Field, with his aviation class at Penn London Elementary School.
By Richard L. Gaw
Staff Writer
It is a Thursday afternoon at the Penn London Elementary School and, one by one, nine young boys stand on a chair and, one by one, each lets a strip of paper made into the shape of an airplane tail fall to the ground. 
At the same time a number of their classmates are home watching TV or playing computer games, these youngsters are learning about the essentials of flight.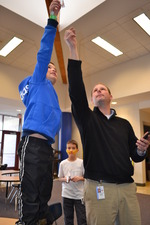 For the past several years, the young campers who have attended the Future Aviators Camp at the New Garden Flying Field have been exposed to the science, history and joy of flying, and since its beginning, the camp has grown from 28 campers in its first year to becoming one of the most prestigious camps of its kind in the nation, with over 200 students now attending every year – a 39 percent increase in enrollment from year to year. It's no wonder; Future Aviators campers from 5 years of age to 15 get to make and prepare their own model airplanes, visit the Air and Space Museum in Washington, D.C., and take a flight in an actual airplane with a licensed pilot at the New Garden Flying Field. 
For all of the continuing growth of the air field's summer program, however, there has been a proverbial elephant in the room, one that concerns Air Field Manager and Future Aviators Camp founder Jon Martin. 
Statistics show that average aviator gets older and not younger," Martin said. "In continuing to run a self-sustaining airport, we need to continue to feed future pilots through the system, and also have to make the economic engine of the Flying Field work."
To Martin, charting a new course for the future of aviation means establishing programs that allow those doors to open. Sadly, he said, that due to increased safety procedures now in place at several airports and flying fields like New Garden's, there is both the real and perceived notion that these facilities are off limits to young people.
"Most kids play with paper planes at some point, but a lot of kids who have that interest at a young age but get away from it, because of lack of exposure and not knowing that it's something available to them."
At the same time Martin began to construct the idea of establishing after-school programs in the area in order to sustain early childhood interest in aviation, he received a call from the Avon Grove School District, who wanted to know if Martin and the Air Field would be interested in teaching aviation as part of the District's Afternoon Enrichment Program. 
"I told them, 'As a matter of fact…'" Martin said.
Targeted to students 6, 7 and 8 years of age, the program at Penn London is a six-week, weekly session of interactive learning, in which students learn the essentials of flight. In addition to making their own toy aircraft, they receive their own binder of aviation facts, a log book, a flight training magazine, and a certificate they can use to enjoy their own plane ride with a licensed pilot at the New Garden location. The cost of the program is $30, which includes all materials and covers the student's after-school fee.  
"I give them the tools to use, but ask them to use their imagination," said Martin, who recently supervised one class that asked students to float an egg downward to the floor in a hand-made parachute.
Although the Penn London classes are serving as a pilot program, Martin can easily see the idea of aviation courses expanding to other area schools and districts, not only to elementary-age students but to middle- and high-school students as well, with curriculum designed according to age and school levels.  He has already begun to reach out to some other area schools.
"My ultimate goal is not only to establish a series of programs in many schools, all of whom have their base at New Garden and feed into the Future Aviators Camp, but to provide a curriculum-based program that other airports and flying fields can use as a turn-key product to use at nearby schools," Martin said.  
If your school is looking to develop its own after-school programs and want to include Future Aviators as part of your curriculum, contact Jon Martin at 610-268-2619, or visit the New Garden Flying Field web site at www.newgardenflyingfield.com.