Finnen receives commendation for 53 years of service to Penn Twp.
02/19/2014 05:37PM ● By Acl
At the February 12 Penn Township Board of Supervisors meeting, State Senator Andy Dinneman read a commendation sponsored by himself and Dominic Pileggi to Bill and Jane Finnen.
By Nancy Johnson
Correspondent
When the Penn Township Board of Supervisors was forced by the recent ice storm to postpone their regular monthly meeting, the supervisors knew there was a potential for a secret to leak. However, that secret, which four of the five supervisors were privy to, remained until the rescheduled meeting on Wednesday, Feb. 12.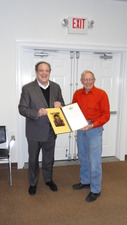 When Pennsylvania State Senator Andrew Dinniman strolled into the meeting, supervisor Bill Finnen was pleasantly surprised to see his friend. But the other supervisors and Finnen's wife, Jane, who also slipped into the meeting room, knew he had come to present Finnen with a commendation from the State Senate in recognition of his astounding 53 years of service to Penn Township.
Dinniman recalled attending several Penn Township Board of Supervisors meetings "back when they were held in Bill's basement." The senator then stood with the Finnens and read the commendation, which was sponsored by himself and State Sen. Dominic Pileggi, to the supervisors and audience. 
Finnen began serving Penn Township in 1960 as secretary/treasurer, a position he held until 1983, at which time his title changed to secretary. He still holds that position today. In addition, Finnen was elected to the Board of Supervisors in 1980 and has continuously held that position for more than three decades.
Heartfelt words concluding the commendation described Finnen accurately. "…the Senate of the Commonwealth of Pennsylvania congratulates William A. Finnen upon his richly deserved recognition; affirmatively states that he is a shining example of community spirit whose many contributions are worthy of deep gratitude and respect."
"But we can't forget Jane," Dinniman added as he handed a small box to Finnen's very surprised wife who herself has given untold hours of service to the township as well. Dinniman explained that the gift was a paperweight replica of an historical painting by Violet Oakley, "Lincoln at Gettysburg," which hangs in the Pennsylvania Senate.
"There was no way I was going to mail this commendation to Bill. I had to come and present it in person," said Dinniman.
In other business, Penn's public relations and special projects officer, Karen Versuk reported on plans for the tenth annual Penn Township/Jennersville Regional Hospital Community Picnic and Health & Wellness Fair. Slated for Saturday, Sept. 27 (raindate Sunday, Sept. 28) from 11 a.m. to 4 p.m., this has become the most anticipated event in the township. Versuk assured the Board that the joint venture of Penn Township and Jennersville Regional Hospital will again include Jesse Garron's live Elvis tribute, Coast2Coast Motown Band, the Philadelphia Eagles cheerleaders, and Jungle John's shows that delight the children. 
"We already have Fulton Bank and the CCIU/TCHS Pennock's Bridge signed on as gold sponsors," Versuk said with a smile. "New this year will be a K-9 demonstration by the Sheriff's department and participation by the Jennersville YMCA."