Millstone Jewelers debuts during Valentine's Day-themed First Friday in Oxford
02/12/2014 02:30PM ● By Acl
By Steven Hoffman
Staff Writer
Oxford's February First Friday event, with its Valentine's Day theme, proved to be a good opportunity to embrace the town's charm as people enjoyed carriage rides, the creation of two ice sculptures, and live music at Flickerwood Wine Cellars.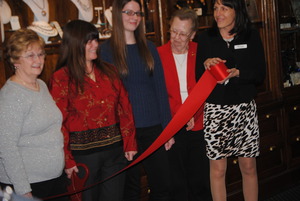 Oxford Mainstreet, Inc. executive director Sue Cole said that she was pleased with the good turnout as many people braved the cold temperatures for an evening out after back-to-back winter storms hit the area earlier in the week.
A kissing booth was set up at Brittany Buitron Photography, while others roasted smores and watched the ice sculptures being built. Numerous businesses were stops in a scavenger hunt for adults, with a gift basket of Valentine's Day-themed items being raffled off.
The evening also marked the official grand-opening of Millstone Jewelers, and dozens of people crowded into the shop to wish owner Alesia Mills well. Mills worked as the goldsmith at Ediene's Jewelry for more than two decades before taking over the shop when Ediene Ringler retired last November.
Ediene's was a mainstay on Oxford's main street for 25 years, and Cole said that Oxford officials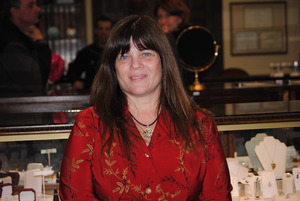 are pleased that Millstone Jewelers is continuing the tradition of having a jewelry store in one of the town's most prominent buildings.
Mills talked about how she felt on the occasion of her shop's official debut.
"It's been a very good experience," she said. "It's always been a goal of mine to make my own jewelry."
Mills had limited edition, heart-shaped necklaces on display that she made for Valentine's Day. She has been making jewelry for the last 27 years, most of them spent working at Ediene's Jewelry. She started making her own jewelry after taking a course in college.
She said that the opening of a number of new businesses, including Downtown Pasta, Flickerwood Wine Cellars and Twisted Treats, and a number of other new arrivals illustrates that Oxford's business district is growing stronger.
"It's pretty exciting," she said, "because everything is changing in town. The restaurant {Downtown Pasta} just came in. I think Oxford is on the right course."