Hard lessons and good advice as Kacie's Cause comes to Unionville High School
01/21/2014 01:25PM ● By Acl
A display in the hallway held photos of those who have died from drug overdoses, including Kacie Rumford.
By John Chambless
Staff Writer
As the crowd began to fill the small auditorium at Unionville High School on Jan. 16, everyone had to walk past tables that held trifold displays of snapshots. The smiling people in the photos were young – some barely in their teens, others in their twenties and thirties – and they had all been lost to drug abuse. There were far too many of them.
Inside the auditorium, people filled nearly every seat and several stood at the back of the hall as the Kacie's Cause Community Town Hall began.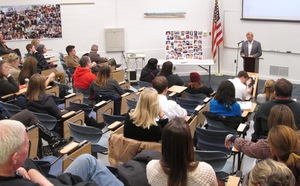 Andy Rumford, of Kennett Square, started Kacie's Cause after his 23-year-old daughter, Kacie, died of a heroin overdose in 2013. The event on Jan. 16 was the eighth large-scale community meeting he has held in Chester County. At each one, he retells the story of how he found her lifeless body in her bedroom. On Jan. 16, some of the words still stuck in his throat as he addressed the crowd.
"In the United States, 38,000 lives are lost each year to drug overdoses," Rumford said. "You, as parents, need to change your thinking, or you could be burying your child."
Kacie's Cause now has three chapters, based in Honey Brook, Oxford and Parkesburg. There are 14 people who keep the group running, and each meeting bring more volunteers – and more people needing help. In the ten months that the kaciescause.com website has been up, it has gotten more than 17,000 hits.
"This area has a drug and heroin problem," Rumford said. "The police are doing what they can, but they need help. We all have a common enemy, and that is heroin."
Moderating the evening was Kacie's Cause member Luis Tovar, who told the crowd that his son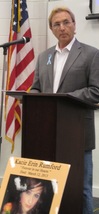 is a long-term addict who is in recovery. "How many people here have lost someone to drugs?" Tovar asked. "More than one? How about more than five?" Each time, hands remained raised.
Chuck Gaza, the Chester County Assistant District Attorney, told the crowd that he met Rumford when Kacie died. He helped find the drugs and empty heroin packets in Kacie's room, and he searched through Kacie's phone to begin tracking down her drug contacts.
He spoke in favor of House Bill 1164, the so-called Good Samaritan Bill, which would absolve anyone who calls for help when someone is suffering an overdose. "Typically what we hear in overdose cases is, 'I didn't want to get in trouble,'" Gaza said. "Getting in trouble is the least of your problems when someone stops breathing." The bill has made it through the Pennsylvania Senate and is now in the House.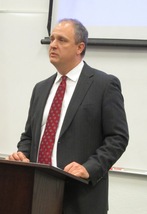 In Chester County last year, 21 people died from heroin overdoses, Gaza said. An additional 31 died from prescription drug overdoses. For that reason, the state has put 10 drug drop boxes around Chester County where people can anonymously, and safely, dispose of leftover medications which are frequently a teen's first step toward addiction.
The typical path, Gaza said, is sneaking some pills from the medicine cabinet. When swallowing the pills begins to not have a strong enough effect, teens crush them and snort them. When they try to buy more drugs like percocet or oxycontin on the street, the high cost turns them instead to heroin, which is being marketed for as little as $7 a bag. "They usually snort it at first, and then they shoot it, if they last that long," Gaza said.
Instantly addictive, and therefore highly lucrative for dealers, heroin is now the preferred illegal drug, pushing aside cocaine.
One woman in the audience raised her hand and asked if there was heroin use at Unionville High School.
"Yes," Gaza quickly answered as a few people in the audience gasped. "I can say unequivocally that there is heroin use at Unionville."
Philadelphia is "one of the largest drug markets in the United States," and Wilmington is another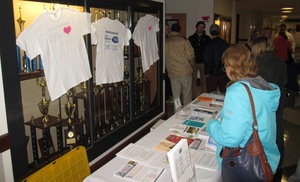 big supplier, Gaza said. With both cities a short drive away from Chester County, the region is being flooded with heroin. "Heroin is drastically on the rise," he said. "And it's cheap. A bundle of 12 can cost $20 to $30. The amount of drugs going through this county would astound you."
Gaza criticized the common practice of doctors and dentists precribing 30 painkillers when only four or five are necessary, leaving the family medicine cabinet full of unused pills. Also, it's common for smaller-scale dealers to get multiple prescriptions at several pharmacies and then sell the pills at a huge profit.
"While you were watching the video at the start of this evening, I got two texts," Gaza said. "A 25-year-old man just died of an overdose in West Sadsbury. And a girl lost her arm when she crashed her car."
Gaza's eyes reddened as he continued, "I really hate coming to your house and ruining your life when your child has died, trying to find out who sold drugs to your kid. But we'll do it. And we'll keep on doing it."
A woman in the audience told Gaza, "I'm from Unionville, and I have to admit I'm pretty clueless about all this. I have learned a lot in the last half-hour."
John Sanville, the superintendent of the Unionville-Chadds Ford School District, was in the audience and pointed out that the Pennsylvania Youth Survey which went out last year to all students in grades six, eight, 10 and 12 "showed what risky behaviors our children are involved in. That information is readily available through the district office. … If we find a student with drugs, we do contact the DA, and we do contact the police."
The surveys showed some students had used alcohol, tobacco and marijuana, but the incidence of hard drugs like heroin was small – about 2 percent or less. Tovar asked Sanville how many students are in the school district, and Sanville told him 4,100. "I applaud the efforts at Unionville, but even 2 percent of 4,100 students is not a low number," Tovar said. "There's more to do."
A woman in the audience said her name was Frances and that she has spent 10 years in recovery for alcohol abuse. She attends a regular meeting in Kennett Square, "and we're seeing more and more young kids who need help and have nowhere else to go," she said. "We're not equipped to help them."
Dr. Marc Grobman, who specializes in addiction treatment in Wilmington, Del., outlined how opiates affect a person, physically and mentally. "This is a long-term disease, like diabetes or hypertension," he said. "You're never free of it. … And you can't tell who's going to be an addict."
A young man stood up in the audience and challenged Grobman, saying that the recovery drugs that Grobman recommended hadn't worked. "I'm a recovering heroin addict. I hate them all," he said of the range of drug treatments. "None of them helped me. NA (Narcotics Anonymous) helped me. You've got to find the right support network that works for you."
Another recovering addict, a 19-year-old young woman, told the audience she started using drugs at 15 and has been clean for two and a half years. "I had a friend who was a straight-A student and he tried heroin for the first time and died because the bag had rat poison in it," she said grimly. "I just want to tell parents that if you catch your kids, keep talking to them. Keep on them. Tell them they don't have to drink at a party – they can just hold a soda. Keep an open relationship with your kids and keep giving them tips."
That doesn't mean coddling teens who make mistakes, according to Tovar and several of the recovering addicts who spoke.
One young man, Joe, said, "I'm a recovering addict, and I wish my parents had let me sit in jail or spend some time living on the streets when I was using. Man, I would have learned a lot faster."
In the audience, a young man named Adam said he started using drugs at 13 and has been clean for almost a decade. He is now a counselor who works in drug treatment and prevention. "Addiction is a disease that hides in the shadows," he said. "The best thing is to keep it in the light."
While Rumford noted grimly that there was an empty seat at the family table for their first holiday season without Kacie, he told the audience at the end of the meeting that, "Today, everyone is leaving much wiser about this epidemic. This drug is not going to vanish. This meeting was for all of us. Talk to your children, and talk to your neighbors. Be a part of a young girl's dream – Kacie's dream – to make the world a better place."
For more information, visit www.kaciescause.com.