Holiday gift shopping made easy at the Oxford Arts Alliance
12/12/2013 05:30PM ● By Acl
The Oxford Arts Alliance is fully stocked with holiday crafts.
By John Chambless
Staff Writer
The Oxford Arts Alliance is well stocked with original crafts by new artisans and returning favorites this month, offering a great destination for holiday gift buying. You'll find things here at the Artisan Gift Shop that you won't see at the mall.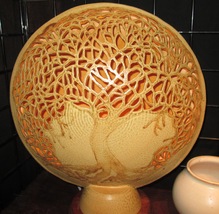 There's a huge variety of handmade jewelry by artisans including Caitlinn Stoltz, Stacey Peterson, Desert Dreams, Designs by Lulu and Andrea's Whimsies, and a line of "energy jewelry" that's made to balance your energies – but it also looks good.
There are warm sweaters and scarves, matted photos and notecards by Ray Parisi, Jr., hand-painted stemware by Kelly Martin, and some whimsical cow paintings and glazed ceramic ornaments of cartoonish cows by Karen O'Lone-Hahn.
For stocking stuffers, or for your own tree, there are pinecone ornaments, paper-mache acorn ornaments and painted gourds by Lorraine Louwerse.
At the front of the gallery, Ki Crittenden has amazing lighted ceramic sculptures that will be the

centerpiece of any room. The intricately pierced surfaces glow from within and make wonderful artistic statements. There are other ceramics by Crittenden as well, and each one is a fine example of design and workmanship.
In a display case by the door are knives made by Oxford's Timothy Heacock. The shapes are elgant, with hand-forged metal blades, and handles made of antler or walnut.
The show is fully packed and invites some prolonged browsing. You'll want to take some time and examine everything. Gallery hours at the Arts Alliance (38 S. Third St., Oxford) are Monday to Saturday from 10 a.m. to 6 p.m., with extended hours on Fridays until 8 p.m. For more information, visit www.oxfordart.org.