Kennett Symphony conductor looks back at 25 years of musical memories
08/07/2013 10:41AM ● By Acl
Mary Woodmansee Green leads the Kennett Symphony Orchestra on stage.
By John Chambless
Staff Writer
When she steps down from the podium at the conclusion of the Kennett Symphony's Aug. 10 concert at Longwood Gardens, Mary Woodmansee Green will close the curtain on 25 years of musical magic.
The orchestra, which started 72 years ago, has had eight music conductors in its history. When she arrived, Green was the first woman to be appointed the conductor of a professional symphony in Pennsylvania. In an interview last week, Green said, "25 years is a nice round number, but I've been conducting since I was 16, so it's been a lot longer than 25 years."
When she began with the symphony, she said, "the orchestra scale was less than half of the current scale. Season subscriptions sold for $60 per family for unreserved seats at Kennett High School. We had no executive director. I remember driving from my home in Abington several times a week to pick up the mail in Kennett Square because there was no one to do it. One of my first achievements was to convince the board that we needed a manager.
"Attendance was fair," Green said. "It grew in the '90s and we had numerous sell-outs and even a few repeat performances, but 9/11 affected all of the arts. We recovered a bit, but then have been hit hard by the recession."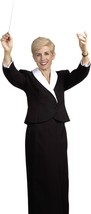 One of the benefits of being in the Kennett Square area for 25 years is the perspective it can bring, and Green said, "In 1988, there was a healthy arts scene in the region, but there were not nearly as many performing ensembles and electronic media competing for the same entertainment time and dollars."
Green's retirement from the orchestra has been a focus of the whole season, but the program at Longwood, "Gershwin at the Gardens," is going to be especially poignant for her -- and for the audience, which has gotten accustomed to Green's lively presence in front of the musicians. She has also guided the selection of music for the orchestra, and she said she's enjoyed bringing some of her favorite works to the stage.
"The first concert I programmed was 'Great Britain! A Night at the Proms,'" Green said. "I am a great fan of British music. Jimmy Mellon, Her Majesty's consul-general in New York, narrated, and that very day he was listed for the Queen's Birthday Honours -- he was knighted. I had the privilege of introducing him as 'Sir James' to our audience, and everyone sat up a little straighter!"
Green grew up in Newark, Del., and directed her own madrigal group in high school. She got a liberal arts education at the University of Delaware along with her piano major. She appeared many times as an actress, and was part of a European USO tour. She got her master's degree in conducting at Temple University, and she conducted at the Ambler Summer Institute with the Pittsburgh Symphony and at the Aspen Music Institute. Her career since has put her alongside a who's-who of the music world. She has conducted orchestras around the world and worked with Eugene Ormandy, Zubin Mehta, Sergiu Comissiona, William Smith and Peter Nero, among many others.
But her main satisfaction has been bringing classical music to stages in Chester County.
"I've loved fashioning programs which I lovingly think of as 'casts of thousands,' whether concert operas, holiday programs, tributes to veterans, ballet or any theme that I felt would be attractive and memorable to the audience," she said.. 
Green said she has had plenty of memorable moments at the podium, but one stands out.
"An unforgettable evening happened one summer at Longwood Gardens with the Lancaster Cannoneers, who provided ordnance for Beethoven's 'Wellington's Victory,'" she said. That show featured 12,000 firecrackers and 16 cannons for Tchaikovsky's "1812 Overture."
"In the Beethoven, the firecrackers were so loud that I literally could not hear anyone in the orchestra, although the music was loud," Green said. "I just kept moving my baton and hoped we would come out together. I have never wanted so badly to find a foxhole and hide! For the '1812 Overture,' one of the percussionists cued the 16 shots while the rest of the orchestra played the battle scene. When we finished, there were cheers and a standing ovation. As the audience made their way out of the theater to see the fountain show, one cannon -- which did not go off -- suddenly fired. I joined the many people still in the theater in levitating!"
After a lifetime of music, Green said she'll still be involved.
"In the near future, I'll conduct the Ocean City Pops with The Mary Green Singers in 'Porgy & Bess' at the Ocean City Music Pier on Aug. 20," she said, "and on Oct. 11, I'll conduct a reading of the Verdi 'Requiem' with the Orchestra Society of Philadelphia to celebrate Verdi's 200th birthday."
One part of the symphony's commitment to the future of music has been the instrumental competitions that give promising young musicians a first step toward becoming professionals. Green has been with the symphony long enough to have seen many of them grow up and become stars themselves.
"I have followed with pleasure the careers of a number of competition winners, and even conducted them with other ensembles," Green said. "At the August 1990 concert, the 2-year-old daughter of one of the Mary Green Singers came out on stage to present me with a bouquet of flowers, which was as big as she was. Since then, Melissa Brun sang for many years with the Kennett Symphony Children's Chorus, graduated from college as a music major, has played the cello with the symphony, and currently makes her living as a musician," Green said. "A very special young woman."
The program for the final Longwood Gardens show will include tributes to Green. Among them is Hope Middleton Wood, who was president of the symphony fromn 2001 to 2003. "Mary:  Conductor, Teacher, Singer, Mentor," she writes. "I wish you a bouquet of beautiful music as you continue, in what I am sure will be a rich and satisfying future. Bravo for 25 years!"
Paul Merluzzi, the orchestra's president since 2012, writes: "I used to pass through Kennett Square on an almost daily basis in the late '80s and early '90s when I was a consultant to the DuPont Engineering Department at the Louviers Building in Newark. When I discovered that this quaint little town, known as the Mushroom Capital of the World, had a symphony orchestra, I was surprised and intrigued. (Maybe they played 'Fanfare for Champignons' or 'The Porcini Quartet'?)  Irena and I attended our first concert at that time, shortly after Mary came on board, and we were pleasantly surprised. The music was very good and Mary had a wonderful rapport with the audience. We have been coming back ever since.  Thank you, Mary, for making beautiful music so accessible, and best wishes for your next 25 years."
Green's deep love for the Kennett Symphony will continue, she said, and she encouraged area residents to take advantage of the many benefits that a symphony can offer.
"I hope people will look at the Kennett Symphony, or any symphony, in terms of the entire community," she said. "Yes, we give concerts for both adults and children. But our musicians do far more - they teach in local schools and privately, they play for events and entertain at celebrations, they maintain and pass on a precious and meaningful tradition. 
"To make a living as a musician, one must practice constantly, and if there is not enough work, the art will be lost," Green continued. "There are no short cuts. As symphony budgets expand with the cost of living, the same number of musicians and the same amount of rehearsal time is needed to present that '1812 Overture.'  Please support live music in the community and be dazzled by the excitement that hearing it live can generate."
The Kennett Symphony Orchestra will present "Gershwin at the Gardens" on Aug. 10 at 7:30 p.m. in the Open Air Theatre. Soloists will be the 2012 instrumental competition winner, the Mary Green Singers, soprano Robin Wilson and baritone Lourin Plant. The program includes "American in Paris" and selections from "Porgy and Bess," along with other works. Tickets are $35 in advance and $40 at the door. Students are $5. For reservations or more information, visit www.kennettsymphony.org.