New Garden's new supervisor sworn in
07/23/2013 02:31PM ● By Acl
Pete Scilla, right, was sworn in as New Garden Township's new supervisor on July 22. Scilla will serve a six-month term.
By Richard L. Gaw
Staff Writer
Pete Scilla was formally sworn in as the newest member of the New Garden Township Board of Supervisors with Magisterial District Judge Matthew Seavey presiding, in a ceremony held at the Board's July 22 meeting.
In a unanimous decision by the township's Board of Supervisors made at its July 1 meeting, Scilla was chosen to fill the post on the Board vacated by former supervisor Warren Reynolds, for a six-month time period. Prior to living in New Garden Township, Scilla lived in Ringoes, N.J., where he served on special committees in the community targeted toward education and planning. Prior to that, he lived in East Millstone, N.J., near New Brunswick, where he served as fire chief in the town for 15 years. Scilla has a manufacturing background, with much of it in pharmaceuticals, including 20 years spent at Johnson & Johnson. Locally, he is now heading up a global pharmaceutical supply firm.
In other township news, Judge Seavey presided over the swearing in of three new part-time police officers for the New Garden Township Police Department. After introductions by Police Chief Gerald Simpson, officers Michael King, Philip Magorry and Pedro Melendez took their oath.
The Board recognized the work of former supervisor Barclay Hoopes in recognition of his conservation efforts on his farm, a cooperative effort between Conservation District, the township and Hoopes.
Andy Rumford, the head of Kacie's Cause, spoke on behalf of the local organization, which is spearheading efforts to bring local awareness to the proliferation of heroin use in southern Chester County. Rumford, whose daughter Kacie died of a heroin overdose on March 12, appealed to the Board and the audience to take an active role in the efforts to educate individuals and families about the awareness of heroin abuse, as well as prevention.
"I found her (Kacie) dead in her bedroom it made no difference to give her CPR or mouth-to-mouth. Ninety-five percent of the heroin she purchased in this township, several miles from here," Rumford said, who showed two videos about the organization. "Heroin right now is a national epidemic, with one person dying every 19 minutes. It's only getting cheaper and cheaper, and more people will be die, quicker and quicker."
Rumford brought the township up-to-date on the organization's several initiatives that are underway, which include appearances at towns meetings, schools and local programs in Chester, Montgomery, Delaware and Bucks counties, as well as in Maryland.
Supervisor Bob Norris said that in support of the organization, the township will lend the use of the township building for future Kacies' Cause events within the New Garden community.
The township received a total of $17,000 in grants to develop trails at the Hendrickson site off of Landenberg Road, as part of continued development of the township's Greenways and Trail Plan. It received a $10,000 grant award from PECO for trail work at the site, as well as a $7,000 grant from the E. Kneale Dockstader Foundation, an organization actively involved in promoting environmental activities in the County, and named for longtime Chester County resident Kneale Dockstader.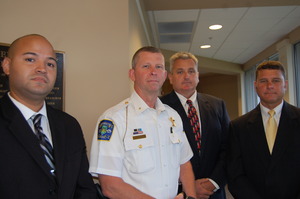 New Garden Township Police Chief Gerald Simpson stands with his newest officers (from left), Pedro Melendez, Philip Magorry and Michael King, who were sworn in at the township building on July 22.