Putting on a show in a very big way
07/08/2013 01:55PM ● By Randy
The score for 'Annie Get Your Gun.'
By John Chambless
Staff Writer
The Brandywiners don't do anything halfway.
When "Annie Get Your Gun" opens at Longwood Gardens on July 25, audiences know they'll get 70 brightly costumed actors, a full orchestra and old-fashioned, Broadway-scale spectacle. Getting to that point every summer, though, takes plenty of work.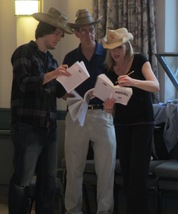 In late May, director Henry Porreca was at Aldersgate United Methodist Church in Wilmington, where the Brandywiners rehearse every spring. It was early in the rehearsal process, but the pace was intense. Choreographer Tammy Paulino was leading the ensemble members through the first steps of the opening number, "There's No Business Like Show Business," and Porreca was pacing on the sidelines, jumping in when actors had to enter or exit, pointing out where they should stand. This is his sixth Brandywiners production as assistant director or director, and he was working without written notes in his script. The movement of the actors was all in his head.
"The Brandywiners have never done this show before," he said. "It's not a typical Brandywiners show. This one doesn't have a lot of chorus in it. But the chorus work is excellent because they put all this harmony in there It's the best sound I ever heard."
This version of "Annie Get Your Gun" is the revised edition, done in the 1990s. The 1946 original's condescending treatment of Native Americans has been jettisoned, for instance, and there's a faster, funnier tone to the show. Since everything is presented as a show-within-a-show, set changes are done in full lighting, with wheeled set pieces that can be quickly moved on and off Longwood's huge stage.
For Porreca, working outdoors in the historic ampitheater is both a challenge and a delight.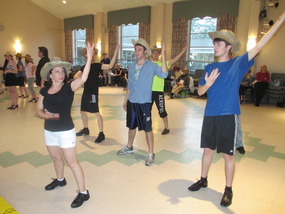 Among the challenges, there are two lighting towers, and there are side lights, but there's nothing overhead. "And there's not much room backstage," Porreca said. The entrances from the wings are only 30 inches wide, so any set pieces have be built small enough to fit. Then there's the weather in July and early August, which can range from oppressive to stormy.
"It's hot backstage," Porreca said. "Downstairs [the dressing rooms are under the stage] is air conditioned, so you get downstairs as quickly as you can, get cool, go on up, do your scene and get back downstairs."
Just filling the stage, which is 62 feet wide and 34 feet deep, demands a huge cast. This year's show has about 70 actors and dancers, plus a full orchestra.
However, the natural beauty of the outdoor theater, which has been hosting shows since 1932, makes each show special, Porreca said.
"It's lovely. If you stand at the top of those steps and look out ver this sea of faces ... I've had the pleasure of performing there, and it's like, 'Hello! They're all here to hear me sing?'" Porreca said, laughing. "It's just wonderful out there."
Some of the challenges of "Annie Get Your Gun" have always been the many gunshots. There's quite a bit of trick shooting that has to be accomplished without using real guns. And the knife-throwing act, of course. And Porreca has added a few explosions, which required some special permission.
"There's no gunshots in this show," Porreca said. "We're doing it all with rimshots. So everything's faster, as opposed to a gunshot, where you've got to go reload, then get ready to shoot the next one. This one is bing-bang-boom. It's exciting. That's the way the comedy's written."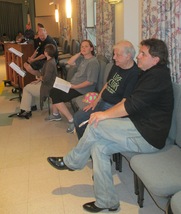 Everyone in the Brandywiners is a volunteer, except for the artistic staff and the orchestra. The love of putting on a show brings cast members back year after year, and audiences have responded. Funds raised through ticket sales are used to fund next year's show, and are shared with other area companies.
The schedule is pretty much non-stop, too. Porreca said that he and the cast will find out in July what next year's show will be. Rehearsals begin in May, and the whole process starts over again. Each show is created largely from scratch, since there's no place to store costumes and set pieces between productions.
As a director, Porreca is quick to credit music director Clint Williams and other members of the creative team. "If I see something and it hits me that it's wrong, I figure, 'Let's look at this.' Otherwise, my team is good, and I leave them alone," he said. "They're so good, the only one who can screw this show up is me."
"Annie Get Your Gun" will be staged at the Longwood Gardens Open Air Theatre in Kennett Square on July 25, 26, 27, Aug. 1, 2 and 3 at 8:30 p.m. For tickets and more information, visit www.brandywiners.org.
The Brandywiners "Annie Get Your Gun" [8 Images]
Click Any Image To Expand