New Garden celebrates its 300th birthday
10/01/2014 05:13PM ● By Lev
By Richard L. Gaw
Staff Writer
The New Garden Township Historical Commission recently uncovered a document, on which were found the words, "New Garden Township" in 1714, which many in the township have come to mark as the official birthdate of the municipality.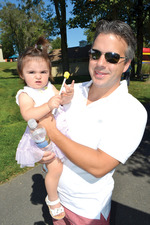 Three hundred years and a whole lot of progress later, current residents came to the New Garden Township Park on Sept. 27 to both celebrate its birthday and honor the legacy of those who came before them.
Beneath an unseasonably warm sky, over 250 visitors enjoyed a full day of activities that included complimentary food and beverages, live music, children's games, a photographic retrospective of township history, and an appearance by a William Penn impersonator, who supervised the planting of a ceremonial White Oak tree, a direct descendent of a tree that grew during the time when Penn first settled Landenberg.
In recognition of his dedication to the New Garden Township Park, former Supervisor Robert Perrotti was given a plaque of recognition, which will be placed in the Lyceum House, an historic township structure Perrotti helped save and transport from its former location on Gap-Newport Pike to the park.
Guests were also given a photographic journey through the history of the township, through dozens of poster-sized archival photographs and maps that were found and prepared by the township's Historic Commission.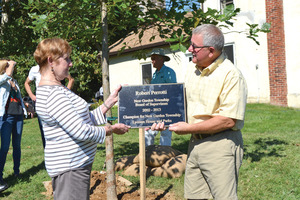 "To me, it's a sentimental time to think of 300 years and all that has gathered us to where we are today," said township Board of Supervisors Chairperson, Betty Gordon. "It's gratifying to see so many people work together to make this celebration happen, and I admire what they have done."
Joined by the township's Board of Supervisors, Sen. Andy Dinniman gave a brief address to those in attendance. "This is a day when we look back on our history and realize that there have been so many economic opportunities, and it's been because of the richness of the soil and the cleanliness of the water," he said. "History has taught us to protect these resources and if we don't, we may lose our history.
"History changes in time, but one thing that doesn't change is human emotions," he added. "What history really teaches us is that if we preserve the past, it gives us the chance to learn about ourselves."  
To contact Staff Writer Richard L. Gaw, e-mail [email protected].