The spectacular Camp Spookynaw
09/24/2014 01:54PM ● By Lev
Camp Spookynaw
By Steven Hoffman
Staff Writer
Southern Chester County is getting a new high-tech, high-thrill haunted attraction this October as Camp Saginaw is transformed into an enchanted land of wizards and witches known as Camp Spookynaw.
"We're calling this America's number-one haunted camp," explained Mike Petkov, whose family has owned and operated Camp Saginaw since 1986. "The camp lends itself to an interesting experience for people. I think this haunted attraction fits beautifully with the landscape and the buildings and the infrastructure that we have in place. There isn't anything else like this."
Guests will become immersed in an enchanted tale that unfolds through 20 different scenes as the wizards and witches of Camp Spookynaw practice their spells and search for the dragon. There will be werewolves and pumpkins and skeletons.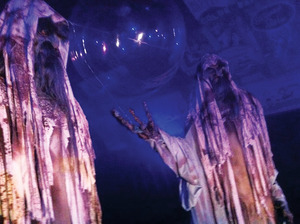 At least ten different buildings at the camp will be decorated to provide chilling fun. The dining hall will be converted into a large spider web. Guests might also want to be for alert for scary occurrences as they walk through the infirmary.
Each scene, Petkov said, will represent a piece of the larger concept, which is to ultimately find the dragon.
"We're going to have actors who really make the scene come alive," said Petkov.
While some haunted attractions double down on the violence and the gore, Petkov said that Camp Spookynaw is avoiding that.
"We're not going for the chainsaws or the severed arms," said Petkov. "This is more kid-friendly. We have witches and wizards and trolls. There will be some spooky, scary elements to it, but it is definitely family-friendly."
Camp Spookynaw is open from 7 p.m. to 11 p.m. each Friday, Saturday, and Sunday in October. During the week of Halloween, the camp is also open on Thursday, Oct. 30. There are three different ticket packages. General admission tickets to enjoy the haunt are $20. VIP admission tickets, which are $30 each, offer guests the chance to enjoy the haunt without waiting in any lines.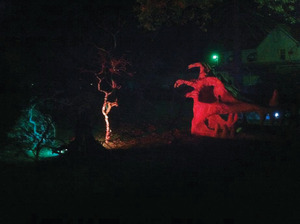 "It's like a FastPass at Disney," Petkov explained.
A VIP package is also available, which includes the VIP admission, VIP parking, and a t-shirt. There are discounts for group sales and birthday party packages are also available.
In addition to the haunted scenes, there will be food and beverages, including seasonal favorites like kettle corn and apple cider.
As the opening night of Camp Spookynaw approaches, Petkov is excited to see how people respond to this new haunted attraction.
"We're so excited about this," said Petkov. "Camp Saginaw has always been in the business of fun. We give children experiences that they remember. I think Camp Spookynaw will be a very memorable experience."
Petkov is particularly excited about the concluding act of the haunt, but details of that are being kept under wraps.
"The final scene will be a surprise for those who come out," Petkov explained.
The Petkovs have considered the idea of adding a Halloween-themed event to their traditional summer camp offerings for several years. Mark Moyer creates a mini-haunt activity each summer called Spelunking and staff members act out scenes similar to what will happen at Camp Spookynaw. Moyer has long wanted to add a Halloween-themed camp, and is partnering with the Petkovs on Camp Spookynaw.
"Mark has worked at other haunts," Petkov explained. "He absolutely loves this stuff. He thought that he could do something awesome with this and he has. I've done research on my own about other haunts. We've been brainstorming on how to make this exciting and fun and interactive. We have the experience of having hundreds and hundreds of people on our property at one time. We're going to have all this wrapped up in one camp. Now, we're a few weeks away from opening and I can' t tell you how excited we are."
Petkov said that a second round of auditions for actors and interviews for people to take care of parking, ticket sales and security are taking place from 10 a.m. to 2 p.m. on Saturday, September 27.
Camp Spookynaw is located at 740 Saginaw Road in Oxford. For more information or to purchase tickets, visit www.campspookynaw.com or call 610-553-6000. For online orders, use the coupon code "CCP" to receive $5 off general admission tickets.
To contact Staff Writer Steven Hoffman, email [email protected]