Brandywine Polo plays host to British team
09/17/2014 07:07PM ● By Lev
By Richard L. Gaw
Staff Writer
 The blue sky on a crisp autumn afternoon was not the only resplendent color at the Brandywine Polo Field in Toughkenamon on Sunday afternoon.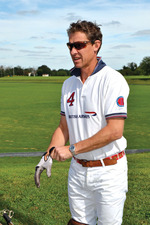 Indicative of both the opponents and a sprinkling of guests from the United Kingdom, the grandstand was filled with both the American flag and the Union Jack, as a crowd of close to 1,000 watched the British Combined Services Team pull out a narrow 7-6 win over the Brandywine Polo Club Team.
The local team was led by Juan Martinez-Baez, Nicholas Place, Belinda Brody and Kathy Fowser.
Scattered among the candelabras and suits and ties were families who simply came out to enjoy a day of fun. In recent years, Brandywine Polo has made efforts to attract a wide variety of spectators to the sport by promoting it as a family activity.
"Polo was pigeonholed as the 'Sport of Kings' for a long time, and the stereotype was that only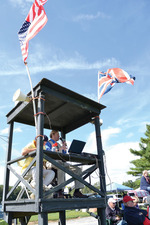 the very rich went out to watch it or play it," said team member Ian Bunch, who is also a member of the team's board of directors. "The United States Polo Association has done a very good job in overcoming those stereotypes. They're allowing players to grow into the sport, as opposed to buying their way into the sport.
"We want spectators who are tired of watching football on Sunday, or want to be outside on a Sunday, watching something that's not a normal activity," Bunch said. "We want people to tell others that they went to see polo last weekend. That's the conversation that really helps polo grow. We have food vendors, bands and a playground for the children. It's perfect for the family, and it's something that everyone can enjoy."