Hopewell school students raise over $3,000 in fight against cancer
07/16/2014 08:29PM ● By Acl
The 2014 Mini Relay for Life committee included Nick Verderame, Lauren Tyson, Julia Hartman, Sophie Distenfeld, Emily McShane, Julia Wentzel, Phylicia Hurtt, Katherine King, Mary Kate Rettig, Jessica Hubbard and teacher Denise Hicks.
Hopewell Elementary School recently held its ninth annual "Kids for a Cure" Mini Relay for Life to benefit the American Cancer Society. For an entire school day, teams of students and staff walked the Oxford Area High School Stadium track for half-hour periods before passing the Relay for Life banner to the next team.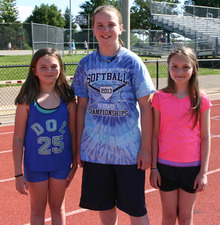 The relay is the final and largest event in a series of fundraisers sponsored by Hopewell's students, staff and families to help in the fight against cancer. The pledges secured by students for the relay totaled over $3,000. Hopewell also hosted a McDonald's Night fundraiser at the Oxford McDonald's, with a portion of sales during the event donated to Relay for Life, which raised approximately $700.