Bridge on State Road in Avondale is at risk, according to supervisors
07/09/2014 07:42PM ● By Acl
This bridge on State Road in Avondale Borough is in danger of failing, according to the London Grove Township board of supervisors.
By John Chambless
Staff Writer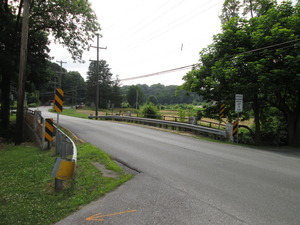 Drivers may not even notice the bridge on State Road, just a short distance from Route 41 in Avondale Borough, but according to a discussion between the London Grove Township board of supervisors on July 2, the structure may be in danger of collapse.
A sign on the bridge, whose railing is shielded by guard rails on both sides, says it is rated for five tons. Supervisor Robert Hittinger claims, however, that inspectors have told him "it should be closed now" due to structural deficiencies.
Township manager Steve Brown introduced the topic at the supervisors meeting, saying that the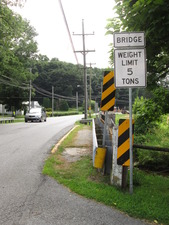 bridge "needs to be taken out and rebuilt," a measure that will require a temporary crossing of some sort on the road, which Hittinger said accommodates about 7,000 cars each day.
The supervisors bristled at the way they found out about the bridge, which was discussed by Avondale Borough and Chester County officials in a meeting that did not include the London Grove supervisors. Hittinger said that Avondale Borough "was going to just close it and walk away" before the county stepped up to fix the structure.
Supervisor Robert Weer said, "You can't just shut down a main artery like this. ... It's in the best interest of the township to move forward. This is a serious health risk."
Connors said, "I am very concerned about this ... I feel a temporary crossing is necessary. It's a very serous public safety issue," particularly because emergency vehicles need to travel along State Road.
Connors made a motion to set up a meeting with county officials and representatives of local fire and rescue companies to discuss options for replacing the bridge while keeping the road open to traffic. "I'd also like to make it a public meeting," Connors said.
Updates on the bridge issue will be posted on the township's website, www.londongrove.org.