Seven-run inning propels Avon Grove past Malvern-Paoli
07/02/2014 10:26AM ● By Acl
Tyler Bonner threw five shutout innings as Avon Grove defeated the Malvern-Paoli Cardinals in American Legion action on Monday.
By Steven Hoffman
Staff Writer
The Avon Grove Stallions scored seven runs in the bottom of the fifth inning to earn a 10-0 win over the Malvern-Paoli Cardinals in American Legion action on Monday.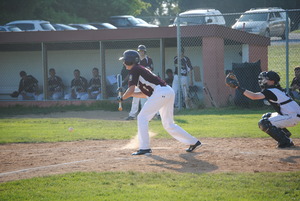 John D'Aquanno delivered the biggest hit of the game, a bases loaded triple that scored three runs in a seven-run fifth inning to break the game open.
Avon Grove right fielder Sean Arrell, who had two hits on the day, gave his team an early lead by singling home Matt Harrison, who singled and stole second base in the bottom of the first.
D'Aquanno and Harrison each drove in runs with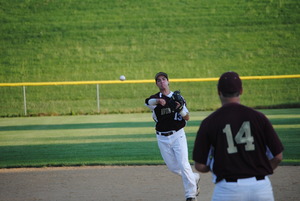 sacrifice flies in the second inning, when the Stallions loaded the bases on a single, an error, and a walk.
Avon Grove starting pitcher Tyler Bonner, making his first start for the team this season, quickly settled into a groove on the mound. He set the Cardinals down in order in the first. After surrendering a leadoff single to Austin Lenker in the top of the second, Bonner struck out two hitters to end the threat.
When the Cardinals put the leadoff hitter on again in the third, Bonner again whiffed two batters to end the inning.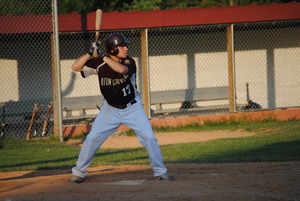 In the fourth, Lenker and Carter Rubin were each hit by pitches by Bonner to start the inning. Bonner struck out the next hitter, but then walked Mike Malloy to load the bases. Lance Spiker stepped to the plate. Bonner threw a first-pitch strike and then got Spiker to hit a bouncer to third baseman Jake Bunjo, who fired the ball home for a force out at the plate. Bonner then struck out the next hitter to leave the bases loaded.
Avon Grove coach Tim Bonner said that his pitcher, who surrendered just one hit during the game, did a good job of working around the base runners, especially in the fourth inning.
Avon Grove's offense took command of the game in the bottom half of the fifth inning. Ryan Guckin and Arrell started the inning with back-to-back singles. Joe Thompson plated a run with a single. One out later, Avon Grove loaded the bases when Bunjo worked a walk. D' Aquanno belted a drive to left-center field that cleared the bases. When D'Aquanno pulled into third base with a triple, his team led 7-0.
Harrison laced a double down the first base line to score another run. Catcher JB Capretti followed with a double of his own to score Harrison. Avon Grove had batted around in the inning. Guckin walked and then Arrell ended the game when his bouncer to the left side of the infield wasn't fielded cleanly. Capretti scored the tenth run that gave the Stallions the victory.
The win improved Avon Grove's record to 8-7 overall on the season.
"We started slow, but we've been playing a lot better lately," said Tim Bonner. "I'm happy with the way we've been playing and I'd like us to keep playing like this for the rest of the season."