'We will not only learn to live, but also live to learn'
06/18/2014 10:19AM ● By Acl
By Steven Hoffman
Staff Writer
Surrounded by family and friends, the 303 members of Kennett High School's Class of 2014 took a moment to enjoy their accomplishments and to look ahead at the possibilities that the future holds at the school's 123rd commencement on Saturday, June 14.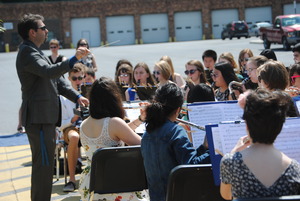 Jennifer Reynolds, a member of the Class of 2014, observed that many people helped the students reach graduation day.
"With the help of our parents, friends, teachers, and administrators, our hard work has finally paid off," Reynolds said. "Everything we have done up to now has created who we are and what we will become."
Class president Emily Cziraky talked about the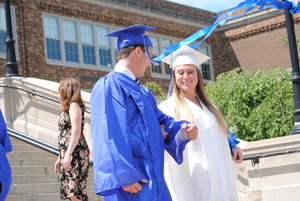 lasting impact that Kennett High School has had on its graduates by giving them knowledge, opportunity, courage, and reason for optimism. She also set the stage for the other speakers' remarks.
"For the rest of our lives," Cziraky said, "we will not only learn to live, but also live to learn. As we take the next step, our four speakers remind us of the gifts we have been given here. Aaron (Hrenko) describes how the gift of knowledge is what allows us to understand the world around us. Liam (Clarke) says that with choice comes opportunity, and everyone must recognize the potential in this gift and grasp it. Brittany (Meola) tells us it is a gift to embrace the future with optimism because we know that we are fully prepared to take the step forward.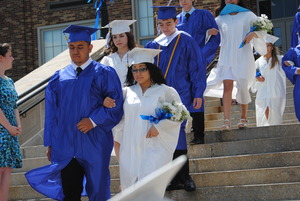 "And, finally, in Lauren (Carroll's) eyes, we must have the courage to fearlessly leap into a new and exciting future. We need to take advantage of the gifts we have been given; they will make all the difference."
Clarke quoted comedian Stephen Colbert's observation about dreams: "Thankfully dreams can change. If we'd all stuck with our first dream, the world would be overrun with cowboys and princesses."
Clarke continued, "When we were young, many of us did dream of becoming cowboys and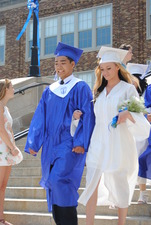 princesses. Or, super heroes, ninja turtles, and professional athletes. As we grew, however, our dreams changed with us. And, some of us, in the process of growing up, may have completely forgotten what it is like to dream. Today it is time for us to start dreaming again."
Hrenko talked about the knowledge that students have acquired while in the Kennett Consolidated School District.
"We entered this school as empty books, ready to be written in," he said. "We studied, and little by little began to fill our pages with all the knowledge we acquired. Everything we learn serves to open our eyes to the world. We studied the sciences, and now we recognize trends in the physical world around us. We studied English, and now we communicate effectively. We studied math, and now we grasp fundamental concepts of the universe. We studied the arts, and now we appreciate the creative endeavors in life. We studied social sciences, and now we understand the human behavior. We studied foreign languages, and now we realize that we are one of many in this world."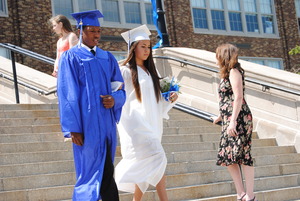 Clarke concluded his remarks by noting that, "Life is an endless pursuit of knowledge. Although today may be the last day of formal education for some, our learning never ceases, and our knowledge never fades. Today we finish writing the last page in this chapter, and now we're onto the next."
Meola recalled that a teacher at Kennett High School once wrote on the board, "Whether you think you can or think you can't, you are probably right."
After writing this message on the board, the teacher did not discuss it, but Meola continued to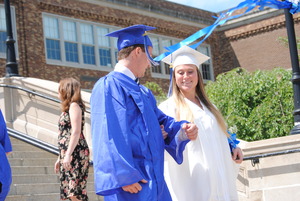 consider its meaning.
"I realized the truth in this quote," Meola said, "and while it was subtle, it still caught my attention. As a senior preparing to leave the world of high school, it dawned on me that these thirteen words are powerful enough to guide all of us through each day."
Meola said, "Something we will always have in common is being a member of the Kennett High School Class of 2014. We will never forget the years we spent here and the memories we made along the way. We will remember the lessons we learned, whether we learned them the easy way or the hard way. Our high school days are over, and we are now paving our own paths and making our own decisions. I leave you with this message of optimism: "Whether you think you can or think you can't, you are probably right."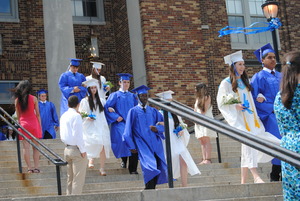 The focus of Carroll's speech was courage. "One of the best, yet most unrecognized, gifts that Kennett gives us as students is courage," she said. "Our days here taught us that we are capable of achieving great things, if only we have the courage to take the risk. Courage does not mean being fearless, but recognizing your fears and choosing to act anyway."
Carroll told her classmates, "The future may seem daunting at times, but our teachers, families, and coaches have been preparing us for this. Do not think that if you are not following the traditional path that your life will not be successful because, in fact, it takes more courage to refuse conformity and pave your own path. The future is what you make of it, so seize every moment and take risks. Be courageous. Take a leap forward without knowing where you may land. And remember, where you land may be where you were always meant to be."
Superintendent Dr. Barry Tomasetti encouraged the young men and women receiving their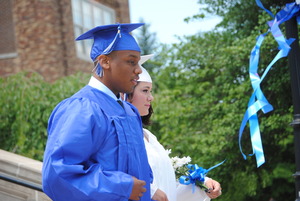 diplomas to always work hard, and encouraged them to see the benefits of hard work.
Heather Schaen, the president of the school board and herself the mother of a graduating Kennett senior, recalled how her family moved to Kennett Square because of the quality of the schools. Schaen referred to author and journalist Malcolm Gladwell's "10,000 hours rule," which suggests that it takes a lot of work and time—about 10,000 hours of it—to become an expert in something, and encouraged the students to put in the hard work and to not be discouraged by others.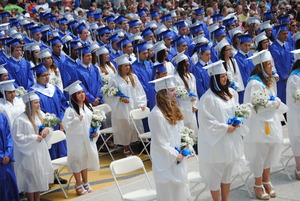 "Some may have more talent than you," Schaen said, "but it is you who will decide how much time you will put in."
Dr. Tomorrow S. Jenkins, an assistant principal at the high school, announced that the members of the Class of 2014 had earned more than $7.5 million in grants and scholarships, evidence of the success that the students had achieved while at Kennett High School.
Kennett High School Principal Dr. Michael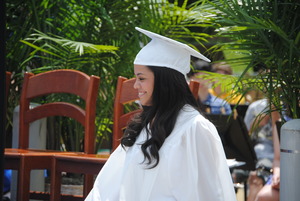 Barber offered the closing remarks in the ceremony. "Class of 2014, you will be held in high regard for all you have accomplished," he said. "Now is your time to lead. Now is the time to show what you are made of."
Kennett High School 2014 [7 Images]
Click Any Image To Expand