An impressive grand opening for Vista Ridge
06/11/2014 02:01PM ● By Acl
Vista Ridge complements the Ware Presbyterian Village's 79 independent-living villas, 52 assisted-living apartments and studios, and 137 skilled-nursing rooms.
By Steven Hoffman
Staff Writer
On June 5, almost two years to the day after Presbyterian Senior Living officials moved the first few shovelfuls of dirt to mark the beginning of construction on Vista Ridge, the expansion project on the Ware Presbyterian Village campus officially concluded with an impressive grand-opening celebration.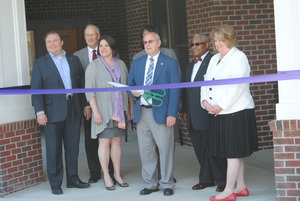 Stephen Proctor, the CEO of the Presbyterian Senior Living, welcomed more than 100 guests to the elegant community room to celebrate the $24.5 million project. Vista Ridge includes 31 one- and two-bedroom apartments, eight carriage homes, and a pavilion club house.
Proctor noted that the most significant part of the multi-million dollar addition is the fact that the Ware Presbyterian Village family can grow larger as a result.
"It's a sacred space where new relationships are formed," Proctor said.
There are plenty of shared spaces and community areas in Vista Ridge. The new pavilion club house features two dining options, including restaurant-style dining and a bistro where diners can enjoy light fare or a glass of wine. There are social areas throughout the two-story complex. The community space also includes a cultural arts auditorium.
Current and future residents were the focus as the plans for Vista Ridge were developed.
"You're the reason we do this," Proctor explained.
Yolanda Johnson, the executive director at Ware Presbyterian Village, talked about the opportunities that can be found here.
"Ware Presbyterian Village is a very active community where people 55 and over come to discover new hobbies, set new goals, and make new and meaningful friendships," she said.
Vista Ridge complements the Ware Presbyterian Village's 79 independent-living villas, 52 assisted-living apartments and studios, and 137 skilled-nursing rooms.
Proctor once called Oxford home in the 1970s when he worked at Ware Presbyterian Village and hired staff members—some of whom still work at the facility nearly four decades later.
He pointed out that none of this would be possible without the foresight and generosity of the Ware family, which gifted the land for the community and has been supportive throughout the years.
Ware Presbyterian Village is just one of 29 communities in the Presbyterian Senior Living family. Presbyterian Senior Living has been operating continuing care retirement communities for 85 years, starting with just one facility. Now, more than 6,000 senior citizens live in those 29 communities in Pennsylvania, Delaware, Maryland, and Ohio.
Vista Ridge uses geothermal heating and cooling, which will significantly decrease the long-term energy costs.
"As we continue to expand and evolve our campuses," said Rodney Fenstermacher, the corporate director of construction and planned assets, "sustainability efforts are a major factor incorporated into our plans because of the long-term benefits."
State Rep. John Lawrence said what everyone was thinking upon seeing the inside of Vista Ridge for the first time.
"It's beautiful," Lawrence said. "It's truly remarkable. It's a real gem. It's a safe facility and everything you need is close at hand."
Oxford Borough officials talked about the importance to the community of Ware Presbyterian Village residents and staffers.
"This campus has grown tremendously over the last 37 years," said Oxford mayor Geoff Henry.
"The borough is delighted that Ware Presbyterian Village is part of the community," added Borough Manager Betsy Brantner, noting that residents at Ware shop in the town's stores, eat in the restaurants, and volunteer in numerous ways in Oxford.
For more information about Ware Presbyterian Village, visit www.warepresbyterian.org.