Defying gravity
06/04/2014 09:44AM ● By Acl
America Cervantes has reached Level 8 and could move to Level 9 by the end of the year.
By Steven Hoffman
Staff Writer
When Glenna Jordan talks about America Cervantes, it is with a combination of hope and pride. Jordan, the owner of Ches-Co Gymnastics, believes that Cervantes could be her first gymnast to get the opportunity to compete in the rigorous sport at the collegiate level, and she's excited about it. Cervantes is a freshman at Avon Grove Charter School and competes at Level 8.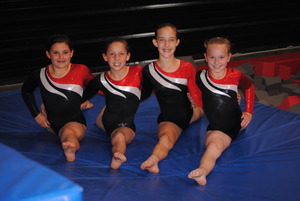 "We're expecting a mid-year transition to Level 9," Jordan explained of Cervantes. "She really has a lot of drive. She comes in extra to coach. She comes in during her off-hours to train. She wants to be in the gym all the time. She works hard to perfect her skills. She's very dedicated and wants to be a good gymnast."
Cervantes was one of the first gymnasts to sign up after Ches-Co Gymnastics debuted in Oxford in September of 2011.
Cervantes usually trains at least four days a week. For her, this is a year-round pursuit as she attempts to learn increasingly difficult gymnastics maneuvers like the Yurchenko vault, which includes a round-off onto the springboard and a back handspring onto the horse or vaulting table.
Cervantes is that rare athlete who enjoys a sport enough to push through all the challenges and hard work.
"I love gymnastics," Cervantes said. "I like the challenge of it. I don't give up. Even though I have my bad days, I know that I will have a good one."
She sets the example for the more than 300 youngsters who participate in a variety of classes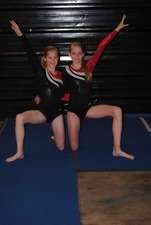 and activities at Ches-Co Gymnastics. She even helps teach some of the youngest gymnasts, working with the four- and five-year-olds who are learning the most basic skills of the sport.
"They are fun to teach," Cervantes said.
The younger children refer to Cervantes as "Miss America." When Jordan explains this fact she can't help but smile. She loves the family-like atmosphere at the gym that she runs with her husband, Curt.
There is an informal philosophy at Ches-Co Gymnastics, Jordan explained, and it goes something like this: school, family, and gymnastics.
She wants to help the young athletes be well-adjusted and lead balanced lives.
"What I want the kids to do is to have fun with gymnastics," Jordan explained. "We want them to be at a place where they are successful and happy. We want the kids to have opportunities to do other sports in their off-season if they want to."
The Jordans want to see top gymnasts like Cervantes advance to the collegiate level, but there are many other youngsters in the community who simply want to have fun at a sport that offers many benefits.
Jordan said that gymnastics helps build physical fitness, strength, flexibility, body awareness, and coordination, but on top of those physical benefits the gymnasts also develop positive attitudes and learn about teamwork.
Jordan was a gymnast herself as a child, and when her youngest daughter started taking classes Glenna found herself spending a lot of watching and waiting. Eventually, she volunteered to help out.
"I have been coaching ever since," Glenna explained.
She is proud of how Ches-Co Gymnastics has grown in just a few short years, attracting youngsters from southern Chester County, Delaware, and Maryland.
"The business got built up by word-of-mouth," Jordan said. "I still get customers on a day-to-day basis."
There are rolling admissions for classes at Ches-Co Gymnastics so children can start at any time.
"We offer classes year-round, require only an eight-week commitment, and there is no registration fee," Jordan explained. "This makes gymnastics an option for children who also want to do other sports in their off-season."
Jordan said that the popularity of gymnastics has soared in recent years, especially after the U.S. gymnastics team—known collectively as the Fierce Five—captured a gold medal in the 2012 Summer Olympics in London.
"We saw a wave when the Olympic gymnastics team won gold," Jordan explained. "I think every gym saw that."
Most gymnasts of a certain age has been inspired by the Fierce Five, and everyone has a favorite among Gabby Douglas, McKayla Maroney, Aly Raisman, Kyla Ross, and Jordyn Wieber.
Jordan said that Douglas has probably been the most influential member.
For local gymnasts like Rebecca Jordan and Rebecca LeSturgeon the Olympics had a big impact, though other top gymnasts like Shawn Johnson are also role models.
Though Jordan and LeSturgeon are both just 13 years old, they have already had quite a few highlights. LeSturgeon earned first place in a competition at states when she was 9 years old.
Jordan said that all the hard work is worth it when they are able to improve their skills.
"You have to have the courage and strength to do it," Rebecca Jordan said. "It's fun to go upside down, to flip in the air, to defy gravity. I really love defying gravity."
As the owners of Ches-Co Gymnastics, the Jordans want to offer the gymnasts as many opportunities as possible. This month, two coaches and five gymnasts are traveling to the National Training Center in Huntsville, Texas to be coached by members and staff of the U.S. National Team. The students making the trip are Cervantes, Rebecca Jordan, Alyssa Blittersdorf, Annabelle Ward, and Katherine Urbine.
"It's one of those once-in-a-lifetime experiences," Jordan said. "I learn every day and I take every opportunity to learn."
There is also a competitive team that has grown from 24 members to 72 members in just a few short years. While the teams on occasion have traveled for competitions as far away as Florida, most of the competitions take place close to home in places like State College, Slippery Rock, Downingtown, West Chester and Kennett Square.
"We try to stay somewhat local," Curt Jordan explained.
"And none of the meets are requirements," Glenna Jordan added. "We give the flexibility to the parents to say that they want to attend."
Ches-Co Gymnastics organizes numerous activities throughout the year. This summer there will be two camps, one June 16-20 and another June 23-27. Youngsters over the age of 6 can enjoy three-hour or seven-hour day camp program. No gymnastics experience is necessary.
Also this, summer, a gymnastics coach from West Chester University, Barbara Cordova, will be training some of the students.
"She works with our girls one week each summer," Jordan said, explaining that this is just one example of how Ches-Co Gymnastics works with others in the community.
Other fun activities include coloring contests Easter egg hunts, a Halloween Parade and party, team sleepovers, and Christmas parties.
"We also support the Pink Invitational by raising funds throughout the year to donate to this event which was developed to honor all women and their loved ones affected by breast cancer.
A gymnastics show, which is becoming an annual tradition, is slated for June 14 from 8:30 a.m. to 11:30 a.m. Jordan said that this is an opportunity for the members to bring family and friends to see them do events throughout the morning and then there is an awards ceremony to conclude the day.
While this show is an annual highlight that Jordan looks forward to, she said she is most proud of how the gymnasts have progressed. Sometimes, the development is slow and steady. In other instances, the progress has come faster. That's the case with Emily McShane, who won first place on vault at Level 3 State Championships.
"She's one who has a lot of natural talent," Jordan explained. "We think that she will be very successful with gymnastics."
While it's always nice to have a gymnast soar to new heights at a competition, for Jordan the most uplifting moments are those when the gym is filled with the sights and sounds of happy, boisterous children.
If you are interested in competitive gymnastics and would like more information about the opportunities at Ches-Co Gymnastics, please call 610-932-2364 or email [email protected].
***
The 2014-2015 competitive team includes the following members: MacKenzie Achuff, Haley Anderson, Katherine Anderson, Kaylynn Baiocco, Nadia Bakalez, Jenna Bell, Margo Berkowich, Alyssa Blittersdorf, Madison Boyle, Megan Bunel, Ashlynn Carey, Julia Carey, America Cervantes, Abby Chan, Keleigh Clausius, Julie Colarusso, Veronica Curland, Adrian David, Viola Economos, Hanna Edwards, Katarina Fischer, Gillian Gagliano, Isabella Gagliano, Abigail Gehm, Faith Gehm, Gabrielle Getshall, Christina Giuliano, Abigail Golden, Emily Ham, Amy Hannum, Maura Hill, Ellie Jacquet, Maura Johnson, Rebecca Jordan, Hannah Kahan, Quinn Kelly, Shelby King, Hannah Landis, Allie Lazzeri, Michelle LeStourgeon, Rebecca LeStourgeon, Ivy Lewis, Teddi Liljestrand, Rachel Malolie, Gina Martinelli, Jordan Martino, Emily McShane, Kennedie Messick, Emma Miller, Renee Moran, Kristen Moyer, Taryn Nardi, Adrianna Nardone, Emma Neskie, Lauren Neskie, Miranda Nilan, Allison Pennington, Kara Phelan, Amanda Quesenberry, Kylie Quin, Madison Rebhorne, Sarah Ritchie, Allison Rosen, Shannon Rubincan, Natalie Santangelo, Bailey Shover, Leah Stevenson, Jaime Trautman, Alexis Tunnell, Kathryn Urbine, Karen Villalobos, Sophia Walker, Annabelle Ward, Megan Wassil, Elizabeth Wolfe, Sara Wyatt, Julia Yurkovich, Katerina Zdrojewski.
***
Ches-Co Gymnastics offers a variety of classes for every age group, starting with a parent and tot class for toddlers between 18 months and 30 months. This 45-minute class is designed to enhance a child's motor, listening, and social skills through fun gymnastics-oriented activities. In these classes, the adult is expected to actively participate with the child.
For two-and-a-half- and three-year-olds, the minis class features 45 minutes of activity to teach coordination, body awareness, and very basic gymnastics. Children learn basic gymnastics skills and poses through games and activities.
The mighties classes, for four- and five-year-olds, is an hour-long class of basic gymnastics skills with multiple levels to achieve. Activities at this level include tumbling, low-bar, floor, beam, and motor skills.
A kinders class is for children who are in kindergarten or who will be entering kindergarten in the fall. The Elementary 1 class is for students in grades 1 through 3, and the Elementary 2 class is for those first- through third-graders who can perform good forward rolls and cartwheels, kick to handstand against a wall, and complete a round-off.
The intermediate 1 class, for grades 4 and up, is for beginners with little or no experience. Intermediate 2 classes are for children who have some experience and can perform good forward rolls and cartwheels, kick to handstand against a wall, and complete a round-off.
There are advanced classes, for children in grades 4 and up, which requires back hip circles, cast straddle dismount on bars, back handsprings with spot, and cartwheels on the beam.
Tumbling classes are held for children ages 6 and up. There are no requirements to enter the beginner tumbling class, and participants advance to higher levels as they develop specific skills.
The gymnasts between levels 2 and 5 compete by doing routines designed by USA Gymnastics on floor, bars, beam, and vault. The levels 6 through 10 gymnasts compete by doing optional routines which gives them the flexibility to design and choreography their routines individually or with the assistance of a coach.