Balint tosses perfect game!
06/04/2014 09:23AM ● By Acl
Maggie Balint tossed a perfect game and recorded 19 strikeouts against Central, in an opening round PIAA Class AAAA playoff game on June 2.
By Richard L. Gaw
Staff Writer
Maggie Balint is cooler than the other side of the pillow.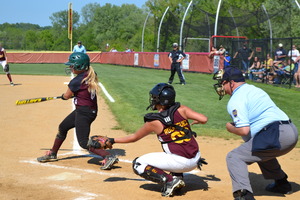 One half-inning removed from arguably the greatest pitching performance of her young life, Balint, the winning pitcher in Avon Grove's opening round playoff game against Central High School of Philadelphia on June 2, sat with her teammates in the area behind the Red Devils' dugout in the last half of the sixth inning and, rather than hunker down in the quiet bowels of solitude, discussed with her teammates the relative merits of applying a certain kind of perfume on game day, which she did just hours before the start of the game at West Chester East High School.
Then, seemingly without much fuss, Balint returned to the mound for the top of the seventh inning, and promptly struck out the side in the top of the seventh, to record her second no-hitter of the season, and her first perfect game, to lead the Avon Grove softball team to a 5-0 victory in the opening round of the PIAA Class AAAA playoffs.
To refer to Balint's pitching performance as merely "dominant" would serve as a vast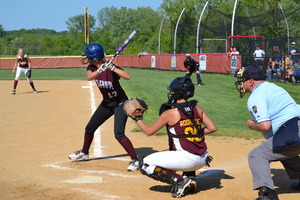 understatement to what she achieved on as large a stage as the opening round of the state playoffs. Mere adjectives aside, Balint's pitching prowess could best be described by referring to the ledger of the scorecard; she not only prevented any Central runner from reaching base, she struck out 19, which meant she allowed just two Central batters to connect on her pitches, and only one in fair ground. In the bottom of the second inning, Central's Sara Gjoka dribbled weekly to Balint for a ground out, and in the next inning, Shannon Flaherty popped out to catcher Alyssa Herion.
And that was it, a masterpiece, completed in a little over one hour. Four days after Avon Grove won the District One championship with a 4-2 victory over North Penn High School, the win catapulted Avon Grove into the second round of the state playoffs.
"I don't like things to get to my head," Balint said moments after the game. "When it came to the last batter I was thinking, 'I can screw this up right now and let this girl get a hit and screw up and let this girl get a hit and ruin the no hitter and the perfect game.' But then I thought, 'I should just treat her the way I treated the first batter of the game.' She's no different."
To diffuse even the most remote thought of tension as she entered the last half of the game with a potential no hitter and perfect game on the horizon, Balint held mastery on the mound, not only as a pitcher but as a calming influence on her teammates.
"I'm not someone who gets stressed out very easily," she said. "I know that I feel like it affects my teammates if I'm stressed out and worrying about things. If I have a smile on my face, I hope everyone is like, 'If Maggie's got a smile on her face, and she's got more stress than anyone else on the field…' It settles everyone else down. It settles me down. It's supposed to be fun. It's not a job for me. It's supposed to fun."
Were it against any other opposing pitcher, the outcome of the game may have tilted in favor of Central's pitcher Sarah Rosenberg, who yielded only six hits to Avon Grove and registered her 400th career strikeout by striking out Logan Needham to lead off the fifth inning.
Avon Grove jumped on Rosenberg early, scoring two runs in the first on Herion's triple to right center that scored both Needham and Emilee Beck, who had reached on an error and single, respectively. In the third, Needham reached on an throwing error by Central shortstop Ariel Dranoff, stole second, and scored on Herion's opposite field single to right, her third run batted in of the day.
Avon Grove tacked on insurance runs in the fifth inning when Alli Volko singled to lead off and scored on a fly ball to left field by Balint that was misjudged by Central left fielder Delia Franklin. Balint ended up on third base, and pinch runner Karissa Brady scored on an ensuing passed ball.
"We haven't seen one like this in a while," said Avon Grove head coach Julie Hatfield, whose team has competed in several tight games of late. "It was nice to just settle in and play ball on a nice day and have Maggie throw her first perfect game on the opening day of the state tournament. We reminded ourselves not to get complacent, because with any team that reaches the state tournament, there's a reason they're here. We kept everyone focused, and that's been a huge part of our game this year."
With the win, Avon Grove advances to the quarter final round of the PIAA tournament, and will face either Parkland or Spring-Ford on Thursday, at a neutral site to be determined.