Local cheerleading gym represents West Grove at national competition
05/27/2014 03:35PM ● By Acl
The Primadonnas team included (front row) Alahni Napier, Morgan DeLong, Crista Lewis, Angelina Gennusa, Sophie Halsey, Masy Arnoldy, Skyler McGhee, Caroline Roe, Carlee Baruka, Elliana Scherer, and Holly Melot; (second row) Kaylynn Hawkins, Emily Kane, Cailyn Gordon, Hayley Holder, Alyssa Martinez, Maddie Kressler, Allie McKinney, Emily Oleksy, Erin Melot, and Jade Pusey; and (last row) Izzy DelTergo, Rachael Kreicker, and Kaylee Wilson.
Fifty-six all-star cheerleaders ranging in age from 8 to 15 participated in a national cheerleading competition in Orlando, Fla., in early May.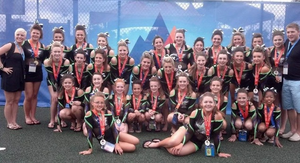 The Starlets, a junior level 3 team, and the Primadonnas, a youth level 2 team, represented KX Athletics of West Grove at Varsity All Stars' "The Summit." The event was a live competition held at ESPN's Wide World of Sports in Walt Disney World.
All-star cheerleading is a sport that combines tumbling, stunting and dance. At competitions, groups perform a two-and-a-half minute routine to music that is judged on difficulty, precision, choreography and showmanship.
Only 475 teams across the nation received bids (invitations) to attend The Summit. Bids were awarded at 40 events nationwide from December through April.
KX Athletics attended two of the qualifying events this season. The Starlets, coached by Chris Ivy and Abby Kline, were awarded the bid at the American Masters Championship event in Baltimore in February. The Primadonnas, coached by Justine Laskowski and Cori D'Amico, earned the bid at the Battle at the Beach in Myrtle Beach, S.C., in March.
At The Summit, teams compete on the first day and the teams in the top half of each division advance to the finals on the second day. The Primadonnas competed on the first day and placed ninth. The Starlets made it to the finals and placed third in their division. KX Athletics will pursue bids for The Summit in 2015 as well.
KX Athletics is co-directed by Karla Andrews and Paula Pennington and offers half-year teams and tumbling instruction. For more information, contact [email protected] or visit www.kxathletics.com.