YMCA celebrates groundbreaking of Jennersville expansion
05/14/2014 02:04PM ● By Acl
The groundbreaking ceremony was highlighted by a performance from the musical, "13" by the Jennersville YMCA Youth Theatre Company.
By Richard L. Gaw
Staff Writer
Before over one hundred guests and community leaders, the YMCA of the Brandywine Valley officially kicked off the construction of a $3.75 million addition to its Jennersville location, one that will serve a multitude of purposes.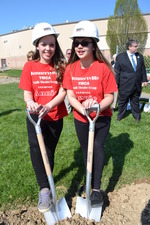 The construction, which has already begun, calls for an additional 13,500 square feet – a 20 percent increase the facility's overall size. Included in the new location will be a new center for arts and recreation, an art studio and scene shop, an enrichment studio, an outdoor plaza with a stage, classroom space and a state-of-the-art wellness center. In addition, the existing wellness center will be expanded to become a family wellness center, and a larger child watch center will be built that will include an indoor playground.
The groundbreaking ceremony was highlighted by a performance from the musical, "13" by the Jennersville YMCA Youth Theatre Company, and comments from Joe Viscuso, Association Board Chairman of the YMCA of the Brandywine Valley;  Dave Gorney, Branch Chair of the Jennersville YMCA; Tom Smithson and Mark Robinson of the Jennersville Y Capital Campaign; and Hal Warner, executive director of the Jennersville YMCA.
 "We know it means a lot of construction equipment, noise, workers, millions of dollars, and  hopefully not too many inconveniences to our members during construction," Warner said. " but what its really about is in the faces of the children, teens and adults who will experience the Jennersville Y's second home."
Originally founded in 1985 to serve 5,000 citizens in southern Chester County, the Jennersville YMCA currently serves more than 12,000.  
Andrea Youndt, chief operating officer for the YMCA of the Brandywine Valley, projects that depending on the weather, the project is expected to be completed this coming January.
"This addition will give children of all abilities to have a place to perform and feel valued and celebrated," Youndt said. "We've looked at this addition predominantly as a opportunity to put on programs and performances for all age groups for the YMCA, but we always want to collaborate with other community organizations, so if the need is there, I'm sure we'll address those needs."
Special recognition was given to the more than 125 individuals and businesses who made contributions to the campaign to fund the project, including Dansko, Inc., Mandy Cabot and Peter Kjellerup, the children of Bob and Priscilla Smithson, and the 1675 Foundation through Carol E. Ware, each whom contributed on the Diamond [$250,000 or more] level.
Laura Woods, head of the Jennersville YMCA's theater program, said that the new location will serve as the home for as many as 14 youth theater productions once it is completed. 
"Having our own place to call our home is truly going to be a blessing," Woods said. "I was very emotional today. When the 'Y' first asked me to start a class, they told me I could do whatever I wanted. Now, I have multiple staff and teams that work on the shows."