Children's therapy center to open new location in Landenberg
05/07/2014 03:18PM ● By Acl
The Landenberg location will be Theraplay's seventh facility in Pennsylvania.
By Richard L. Gaw
Staff Writer
Begining May 12, an outpatient facility specializing in physical, occupational and speech therapy services for children and young adults will open at 385 Starr Road in Landenberg.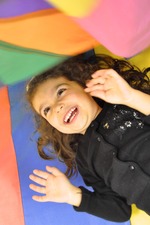 Founded by pediatric physical therapist Lisa Mackell in 1991, Theraplay, Inc., specializes in providing physical, occupational, speech and feeding therapy services and therapeutic group offerings in the outpatient centers. Theraplay also provides special-education services to children in their homes.
Since opening the first location in Malvern in 1996, therapists and staff at Theraplay, Inc., have helped thousands of children, through its association with parents, pediatricians, health-care providers, and schools.
"We're one of three triangle points of care around each child, with the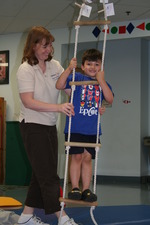 child's parents and medical care professionals being the other two points," said Theraplay owner Steve Mackell. "All of our patients are referred from either a pediatrician, surgeon, specialist, consultant, teacher or a social worker. We then tailor a program that meets the needs of the child, do a complete evaluation, and then report back to parents and medical professionals who chart the child's progress."
Theraplay treats well over 200 different types of diagnoses, including young people afflicted with genetic syndromes, developmental delays, autism spectrum disorders, and Down syndrome. The company also sees orthopedic patients, such as those who are recuperating from concussions and sports-related injuries.
Working with patients at Theraplay doesn't begin and end on examination tables, either, but on swings, playgrounds, tumble mats and pillows. Through the use of functional play, Mackell said, therapists and staff members create a specialized program of therapy – one that gains the attention of the child and better tracks the child's progress, while improving their strength, developmental skills, and cognitive skills at the same time.
"We use play as a means of bringing children through their therapy," Mackell said. "Let's say a child was born four to six weeks early, and has a developmental delay because of it -- a lot of those children are playing catch-up with the rest of the world. By creating a functional play program, he or she begins to develop cognitive skills they previously did not have.
"When they're doing activities, we may see sensory or balance issues," he added. "In our gyms and play areas, we provide sensory integration that allows us to introduce our patients to new environments so that they can learn to function normally."
The Landenberg location will be Theraplay, Inc.'s seventh facility, and provide therapeutic opportunities for families in southwest Pennsylvania, as well as parts of Delaware and Maryland. Other facilities are in Broomall, Horsham, Limerick, Newtown, Quakertown and West Chester.
"One of the reasons we chose Landenberg as our newest location was that we have strong relationships with physicians and children's hospitals in the area," Mackell said. "As we grow, we grow smartly, and we've seen the need to be able to better accommodate those medical professionals – as well as young people and their families -- in southern Chester County, Delaware and Maryland."