Oxford shuts out Downingtown West, 2-0
05/07/2014 02:42PM ● By Acl
Oxford starting pitcher Nolan Benke tossed a two-hitter against Downingtown West on May 2. Benke, a freshman, has pitched reliably for the Hornets all season.
By Steven Hoffman
Staff Writer
For first-year coach Andy Wendle, every game brings a new situation that he hasn't encountered yet as the leader of the Oxford Hornets. Each time this happens, a difficult decision needs to be made. On May 2, the Hornets carried a 2-0 lead into the seventh inning and Wendle had to decide whether he should give freshman starting pitcher Nolan Benke the chance to finish the game.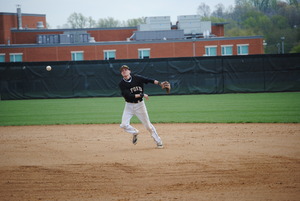 Wendle has seen Benke improve and mature enough during the course of his rookie season to trust him in a difficult situation.
"He's a tough kid," Wendle said. "He stays in there on every pitch. He doesn't give in in difficult situations."
So Wendle opted to let Benke pitch the seventh inning and the pitcher rewarded him by finishing the game strong, surrendering just a walk as he shut out Downingtown West.
There was no mystery to Benke's success. He threw strikes, changed speeds, and kept the Downingtown West hitters off balance all afternoon.
"He did a nice job of being able to work ahead in counts," Wendle said. "He has a live fastball with movement."
The game moved along at a brisk pace as Benke and Downingtown West starting pitcher Doug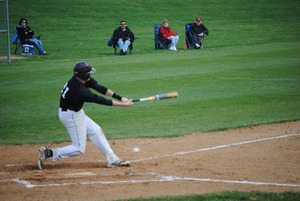 Conrad controlled the game. In his first turn through the Downingtown West lineup, Benke only gave up one hit—a leadoff single to Collin Domblesky in the third inning. But the runner was quickly erased when Oxford first baseman Jake Leonard caught a liner off the bat of Dylan Montgomery and he stepped on the base for a double play.
Conrad struck out the side in the first and he, too, breezed through the first two innings.
Oxford took a 1-0 lead in the bottom of the third when Dan Green led off the inning with a double and then scored on a single by Mike Webber.
Downingtown West looked to answer Oxford in the top of the fourth, putting two runners on with one out for cleanup hitter Max Edgin. Edgin fouled off several pitches and seemed to be getting a read on Benke. But the Oxford pitcher caught him looking with an off-speed pitch for the second out. Calvin Sparhawk stepped to the plate. Sparhawk drove a ball to left field, but Oxford left fielder Ethan Herb tracked it down to end the scoring threat.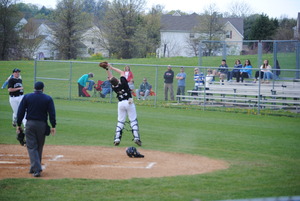 Herb played an important part in Oxford's next turn at bat. Shortstop Kyle Price led off the top of the fourth with a double. Herb followed with a hard grounder that bounced off the glove of Downingtown West first baseman River Carbone and rolled past the first base bag. The single put runners at the corners with no outs. Designated hitter Pat Winters followed with an RBI single up the middle, making it 2-0.
Conrad did a nice job of limiting the damage. After a sacrifice bunt moved the runners to second and third, Conrad struck out the next two hitters to end the inning.
Domblesky hit a one-out single in the top of the fifth, but Benke coaxed the next two hitters to fly out. Herb made a nice catch in left-center field to prevent an extra base hit by Conrad.
In the top of the sixth, Downingtown West sent the first three hitters in the lineup to the plate, but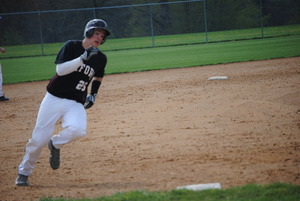 Benke retired Jason Borosky, Kenny Jarema, and Alex Jankowski on two pop outs and a fly out.
Benke got three outs in the seventh on fly balls to center fielder Cam Williams.
While tossing the first shutout of his high school career, Benke scattered two hits and three walks.
"Every game I pitch I'm getting a little more comfortable out there," Benke said.
Price, a senior shortstop who is a leader on the team, was 2-3 with a double and the run scored. Winters also had two hits and drove in a run.
Wendle attributed the win to a solid team effort.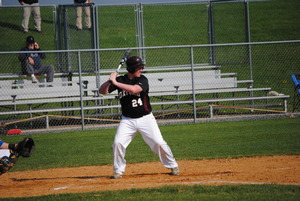 "This was a team effort," he said. "We had a couple of situational hits. We made plays on the field. Every player, when it was their turn to make a play, they made the play."
The win improved Oxford's record to 5-10 on the season with a handful of games left for the team to continue to improve. This season has already been a big step forward for Oxford.
"The team has done a great job of buying in to what we're trying to do," Wendle said. "They are playing very hard and they come out and play clean baseball. That's what we're trying to do every day—go out and play clean baseball."
To Wendle, clean baseball means relying on strong pitching and defense and having quality at-bats. More than one-third of the team's games have been decided by one run. Throw in a couple of other games decided by two runs and Oxford has been competitive in most of the games this season.
"We're winning one- or two-run games and we're losing some one- or two-run games," Wendle said.
Benke said that as the season moves toward its conclusion, he and his teammates see improvement.
"We're making progress with every game," Benke said.