Artist Connection group exhibits in Oxford
05/07/2014 02:33PM ● By Acl
'Hunger' by Sally Wilson
By John Chambless
Staff Writer
The Artist Connection group celebrates their own connections in the latest exhibit at the Oxford Arts Alliance, which opened on May 2. The group of tri-state area artists works as a networking tool and avenue for socialization and inspiration, and the exhibit reveals a range of links between the artists.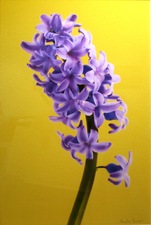 Three color photos of flowers by Anita Bower have a pleasant simplicity – single stalks, impeccably lit and photographed. Jay Eaton shows several painted ceramic sculptures that capture his impressions of the studios of the other artists in the group.
Sally Wilson has a striking large oil, "Blackbirds on Walnut," that has the directness of folk art, but there's an indefinable something – the stylized treatment of the autumn trees, perhaps – that raises the work into another realm. Her winter scene of a fox and gray trees, "Hunger," is also very effective.
There are fine watercolors by Charlotte Mehosky ("Apples, Pottery and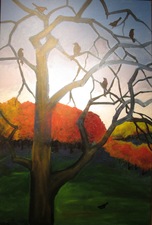 Copper") and Eleanor Patterson Inforzato ("English Village and Canal Waterway"). And "Three Cows," by Diane Blanche Stirrat, is an atmospheric and memorable small oil. You'll find yourself counting the cows, though.
"The Ravens," a black-and-white oil by Judy Petersen, nicely captures some of the motion and menace of the birds, and Barbara McAdams has two subtle watercolors – "Schoodic – Acadia NP" and "Acadia Rocks" -- that make the most of their small size.
The Artist Connection Members' Exhibit continues through May 30 at the Oxford Arts Alliance (38 S. Third St., Oxford). Gallery hours are Tuesday, Thursday and Friday from 9 a.m. to 2 p.m., and Saturday from 11 a.m. to 4 p.m. Visit www.oxfordart.org or call 610-467-0301 for more information.
Artist Connection - Oxford Arts Alliance [5 Images]
Click Any Image To Expand