Foster's hit leads Unionville to 4-3 victory
04/30/2014 03:12PM ● By Acl
Oxford starting pitcher Kyle Price went the distance for the Hornets, striking out seven and giving up seven hits.
By Richard L. Gaw
Staff Writer
On the windswept baseball diamond at Unionville High School last Friday, Matt Foster's seventh-inning liner that flew over the head of Oxford's Ethan Herb and drove in the winning run may be the play that leads off this summary of the Indians' 4-3 victory – but as anyone wearing a Unionville uniform that day will tell you, the game was won by their teammate Nick Ward.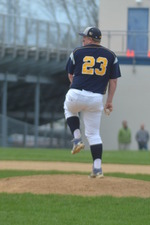 With the game locked in a 3-3 tie, Ward, who had gone hitless in his three previous trips to the plate, led off the top of the seventh by working a walk against Hornet starter Kyle Price. He then stole second, advanced to third on a grounder by Drew Jazmuz that was booted by Hornet third baseman Eddie Settine, and jogged home on Foster's game winner.
The last-inning theatrics of Ward and Foster may have grabbed the largest headlines, but the back story of this Ches-Mont contest was seen in the go-the-distance pitching efforts of Unionville's Andrew Jones and Price, each of whom scattered seven hits each, and contributed offensively as well.
After allowing just one base runner in the first, Price ran into his only trouble of the day in the second, when Chris Koehler walked and advanced to third on a stinging double by Alex Pechin. Jones then doubled in Koehler and Pechin, and later scored on a single by Eric Takoushian.
Down 3-0, Price got his club back in the game in the top of the third, not with his arm but with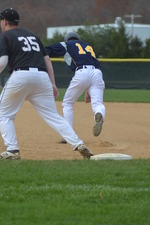 his bat. Following a two-out single by Eric Silvestri to right field, Ryan Swearer was hit by a pitch. With two on, Price whacked a two-run double over Pechin in center field.
In the top of the fifth, Oxford tied the score on a single by Nolan Benke, who advanced into scoring position on a perfect bunt single by Silvestri and scored on a ground-out by Price.
Meanwhile, Jones got out of a jam in the top of the sixth. With one out, Jake Leonard and Dan Green both singled, a ground ball by Benke was scooped up by third baseman Koehler, who stepped on the bag to force Leonard. On the ensuing throw to first, Koehler's toss went wide, allowing Green to go to third and allowing Benke to take second. With two runners in scoring position, Jones bore down on Settine, who grounded back to Jones to end the threat.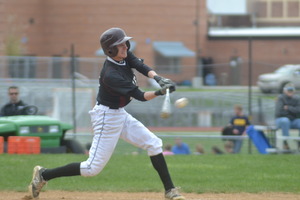 Jones registered six strikeouts on the afternoon and did not give up a single walk in his seven innings, while Price notched seven strikeouts and surrendered four walks.
The victory gave Unionville an 8-5 record in the Ches-Mont, putting the Indians in a three-way tie for fourth place in the division, while the loss put Oxford at 3-9 overall on the season.