Plant sale blossoms in Kennett Square
04/30/2014 02:46PM ● By Acl
Anna Marie Mazoch of Kennett Square fills her basket with unusual herbs.
By Richard L. Gaw
Staff Writer
Anna Marie Mazoch of Kennett Square is a self-described active gardener who looks forward to the annual Kennett Square Plant Sale every year. Indeed, her take-away from this year's event, held April 26 in the Genesis Walkway, revealed a bundle of unusual herbs, including diamond frost, an assortment of colorblaze, and various offerings of irrigated basil, dill and sage.
She wasn't alone in planning her garden for the year.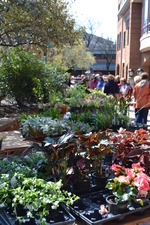 For the 49th year, the Kennett Square Plant Sale drew hundreds of local gardeners who shopped for herbs, annuals, perennials and other things floral and green. Organized by the Historic Kennett Square Beautification Committee, the event serves as a fundraiser to pay for the cost of the three annual plantings the committee does in order to fill and beautify 66 flower pots and barrels of varying size throughout Kennett Square every year. After seasonal plantings in the spring and summer, the committee plants evergreens in the pots in time for the winter season.
The plantings at the sale – 650 annual plants and 30 perennials, as well as a variety of bulbs – were grown either at area nurseries or in the home gardens of members of the Spade & Trowel Club, the Four Seasons Garden Club and Seedlings. 
"I love the fact that when we have this sale, the community helps to beautify the community,"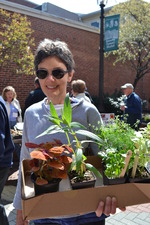 said Edyie Joines of the Spade & Trowel Club. "As we plant throughout the town, it seems the entire town comes up and compliments us."
"This event gives answers to the question of a how flowers and plantings can improve the quality of life," said sale coordinator, JoAnn Donlick. "Flowers bring a sense of comfort and raise our level of awareness of what we are capable of doing with plants. To grow something gives you self-esteem, and a handful of flowers can give make any street look more beautiful."