French and American students findcommon ground in Unionville
04/30/2014 01:46PM ● By Acl
Unionville High School principal Paula Massanari (left) meets Nathalie Brunet and other teachers from the Lycee Jean Marc Boivin.
By John Chambless
Staff Writer
The chatter was lively and the smiles were large at Unionville High School on the morning of April 25 as the school welcomed 32 high-school students from France.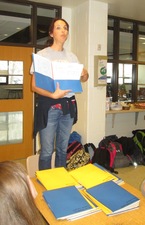 The students, who are staying with local host families, have been talking online and getting to know their American host teens for several months. For students taking French at Unionville, the exchange is a chance to immerse themselves in the language and customs of the country. For the students from France, the two-week trip is an exciting adventure in a country they have only studied in books.
Veronique Liska, who teaches several French classes at Unionville, was busy on Friday morning, arranging the breakfast buffet, welcoming the teens and distributing packs of information that went to each visiting student. Speaking first in French and then English, she explained the contents of the folders and how the French students would be following their host teens through their school day.
"We do this exchange every two years, so the first time was two years ago," Liska said while the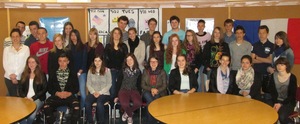 teens chatted in the school cafeteria. "The students' language skills grow tremendously. This past year, I had students in my AP class who had participated in the program, and they had excellent grades – fours and fives – on their AP exams. They get a huge amount of cultural awareness. And the students say that, although they're different, they're very much the same."
The French students follow their hosts through the school routine on Friday, Monday and Tuesday, including any after-school practices. Then the visitors will be taking organized trips to Washington, D.C., Philadelphia and Lancaster County. French students study Amish culture as part of their curriculum, and they are eager to see Amish communities in person, Liska said. The students have to pay their way to America for the trip, and have been saving for the past year.
Host families are free to arrange their own trips or events, and the teens often come up with get-togethers that mingle the groups during their stay, Liska added. All the students also attended the informal dance at Unionville, called Morp, on April 26.
Nathalie Brunet is one of three teachers from the Lycee Jean Marc Boivin in Dijon who are accompanying the teens on their American adventure. She teaches English at the school in France. She helped create the exchange program two years ago, working with Liska and others to iron out the logistics.
"First, we started writing letters," Brunet said, "and then we decided to organize a trip. The first experience was just a complete success. Students get a lot of motivation to go on learning the language. They realize what learning a language is for. Culturally, the American craze becomes concrete, you know?"
French teens know America through its television and movies, and shows like "Glee" are shared in both countries, Brunet said. And the teens share a common origin. "Every American has roots all over the world," she said. "The project has just started, and Veronique and I want to make it last. It's a special link we have created. All our students really love it here, and the American hospitality has been amazing."
While students on both sides can converse easily in both languages, Brunet said that sometimes communication is a matter "of finding a balance. They are curious about each other's cultures, and the American dream is really real in French minds. The Americans are still role models in Europe."
The French students will visit New York City after their two weeks in Unionville, and then fly from New York back to Paris. While in New York, they will visit Ellis Island and other sites to get a crash course in American culture and history.
"For these students, it's their first experience in America," Brunet said, "and they're very excited to be here."