White Garden opens at Union Hill Cemetery
04/30/2014 01:35PM ● By Acl
Members of the Union Hill Cemetery Association gathered on April 24 to dedicate a new cremation interment area in the historic cemetery.
By John Chambless
Staff Writer
The long lane of dogwood trees at Union Hill Cemetery leads straight up the hill to a new cobblestone-lined circle, just as if it had been designed that way in 1868, when the cemetery was first planned.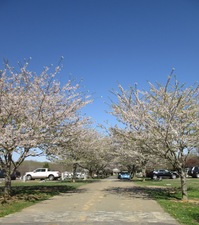 The White Garden is a recently completed area where cremated remains can be interred in small grave sites. It has been three years in the making and arose, according to local funeral director Matt Grieco, because more families are planning cremation rather than burial for their loved ones. The non-profit Union Hill Cemetery Association in Kennett Square still needs to pay for upkeep and groundskeeping of the huge tract of land.
Grieco is a member of the Cemetery Association and he attended a ribbon-cutting ceremony for the new White Garden on April 24. 
"Since 1868, Union Hill Cemetery has been a focal point of this community," he said at the ceremony. "This project is the culmination of a lot of thought and planning. Dignified, scenic, elegant and well-maintained are all terms that come to mind when you think of Union Hill Cemetery. This new garden offers an elegant, permanent place of rest for those who have waited many years, and for those who have recently lost a loved one."
In a press release, Grieco pointed out that in 1985, the cremation rate nationwide was 13.8 percent. In 2013, more than 43 percent of United States deaths were cremated, and that number is only expected to rise. In the past, family members had to purchase an entire gravesite for an interment, even if they were only burying urns. The new White Garden has smaller plots, at less cost, and serves as a lasting memorial for loved ones. Up to two urns can be interred in each plot. 
When the new plantings around the paved circle are in bloom in coming years, there will be white flowers or white trees visible from early spring through the fall. The half-acre site, on a gently sloping hill at the top of the cemetery, seems like a natural place for the White Garden. The site was designed by the late landscape architect Jerry Evans, and members of his family were at the opening ceremony last week. 
While there are no interments in the White Garden yet, Grieco said there has been strong community interest in the site. For more information, call cemetery superintendent Rick Roberts at 610-444-4554.