A new home for African art opens at The Lincoln University
04/16/2014 01:34PM ● By Acl
The Lincoln University Concert Choir, with director Edryn Coleman.
By John Chambless
Staff Writer
Last weekend's opening of the Danjuma African Art Center at The Lincoln University brings art from centuries ago to light, and links it with the visions of contemporary artists. The resulting chain of shared heritage carries African art into the future.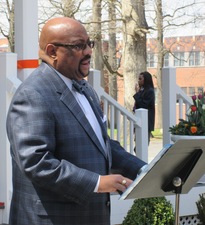 The ribbon-cutting ceremony on Saturday afternoon drew hundreds of visitors to tour the gallery for the first time. As the crowd gathered under a tent in front of the building, Ed Rahme from Think Architecture in Chadds Ford explained that design work began on the Victorian home, which formerly held offices, in October 2012.
"We ran into a number of challenges," he said, smiling. "The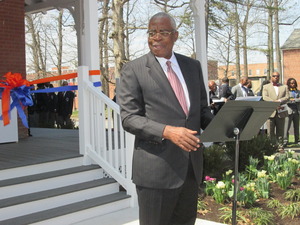 most interesting challenge was that we were taking a Victorian building and converting it to house African art. There was kind of an interesting clash of cultures. The majority of the work is from sub-Saharan Africa, and we tried to find influences from that architecture. You'll see that in the portals between galleries -- it's a very sub-Saharan African way of making a doorway."
Jeff Chapp, an artist and instructor at Lincoln, said, "There have been temporary exhibits that have gone up over the years, but the vast majority of the collection is in storage in the International Cultural Center. It's a collection of material culture, as well as African art.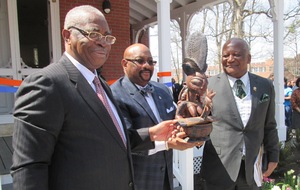 "The first actual donation to the collection came in 1922," he said, "but it really wasn't until 1935 that the idea of a museum on campus began. The first major collection came in 1937 from Rev. Underhill, as a memorial to his wife. They had been missionaries in the Cameroons."
Allan Edmunds, the president of the Brandywine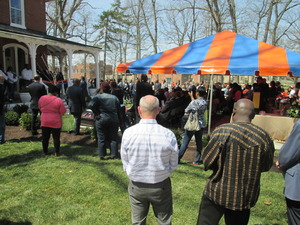 Workshop in Philadelphia, said that prints by contemporary African and Caribbean artists have been loaned to the new art center for the inaugural show and beyond. "I'm hopeful that, going forward, Brandywine Workshop will play a role in what they're doing here," he said. "Artists come from around the world to produce work at Brandywine. We started in 1972, so it's very contemporary."
The Danjuma art center, he said, "is not just historical. It's about living history, and making those connections."
The Lincoln University Concert Choir, led by director Edryn Coleman, earned a loud round of applause for their powerful rendition of "Great God Almighty" before Lincoln president Robert Jennings addressed the crowd.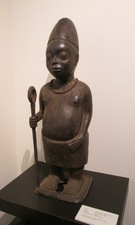 "Today is a historic day in the life of The Lincoln University," he began. "African students have always had a strong presence on this campus, and they've been a vital part of the university's history for the last 160 years. This university has been fortunate to receive donations of African art and artifacts for more than 75 years. The collection evidences the spiritual and cultural practices of countries such as Nigeria, Ghana, Senegal, Liberia, Cameroon, Mozambique and Zimbabwe, just to name a few."
The collection has more than 3,000 objects, Jennings said, adding that, "The Danjuma African Art Center represents a new stage in the development and accessibility of the university's collection and programming."
Jennings pointed out Gen. Theophilus Y. Danjuma, who was seated in the front row, as the critical component in getting the art center built.
"We are forever indebted to Gen. Danjuma," Jennings said. "He's concerned about people, especially those of African descent, and has used his influence and his resources to purport that education is the key to insuring a successful future. Through the Danjuma African Art Center, we will educate the community about African art and its growing influence in a global society."
Jennings said Danjuma was in India on Wednesday of last week, but had made the journey to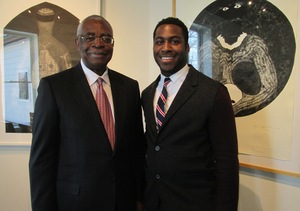 Lincoln for the opening ceremony on Saturday. "He's all about trying to help others," Jennings said. "When I turned to him and said I needed help to restore a building on this campus, he didn't ask any questions. He said, 'Where do I wire the money?' We want to say thank you, thank you, thank you for making this possible."
Danjuma then stood to address the crowd. He is a Nigerian politician, businessman and retired chief of army staff and minister of defense. He's currently the chairman of South Atlantic Petroleum of Nigeria.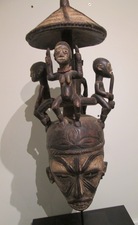 "I count it as a great honor that Lincoln University has bestowed the name Danjuma African Art Center on this facility," he told the crowd. "To the people of Nigeria and Ghana, identification with Lincoln has deep historical roots. I am honored and delighted to give back to Lincoln some measure of what Lincoln has given to generations of Africans.
"The Danjuma Art Center takes its place today, among hundreds of others across the world, as the answer to those who claim that Africa has no history," Danjuma said. "May all those who enter the portals of the Danjuma African Art Center come away instructed, enlightened, inspired, and ennobled."
Danjuma also surprised Jennings by donating an African sculpture that he had brought with him for the Lincoln collection.
After a ribbon cutting, Jennings invited everyone inside the gallery. While the building retains the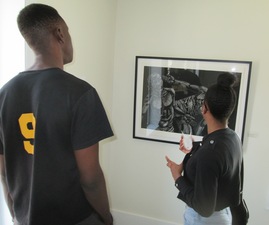 Victorian fireplace and entrance area, the first and second floors have been reimagined as sleek gallery spaces, with rooms divided by white walls and built-in display cabinets and shelves. The rich array of antique ceremonial and household objects includes baskets, pottery, furniture, vases, sculptures and carvings of breathtaking beauty. Upstairs, lithographs from living artists take the motifs and rich history of the objects downstairs and update them, making a trip to the art center a richly rewarding experience.
With plenty of open gallery space yet to be filled, the art center will host permanent and changing exhibits that are open to the whole community. For more information, visit www.lincoln.edu.